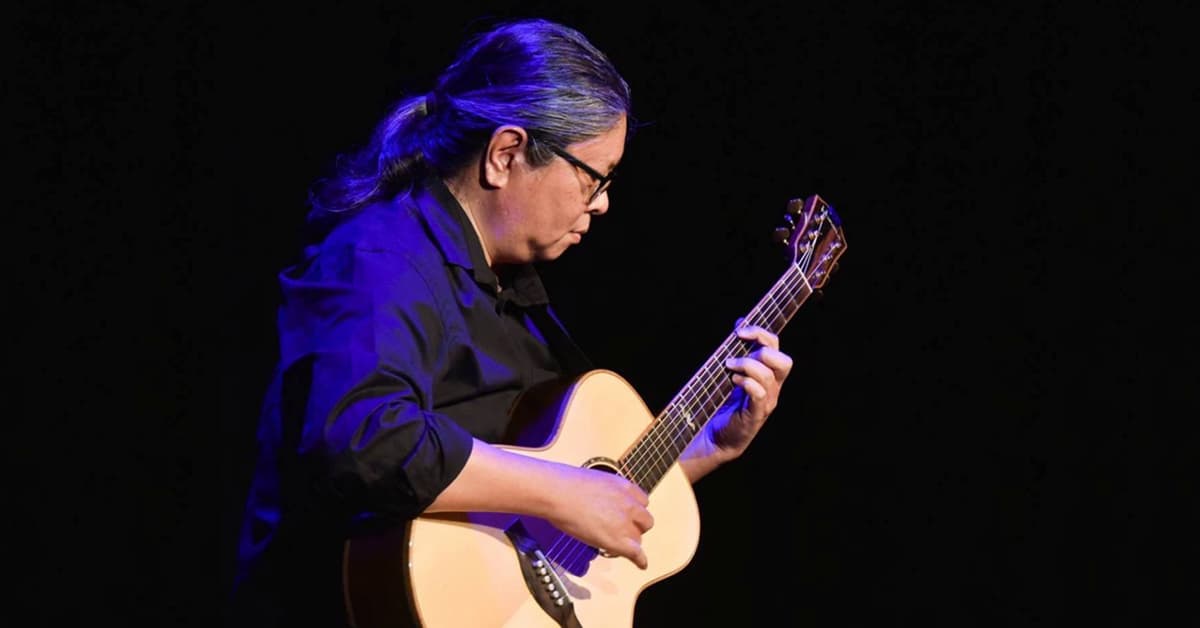 'Having necessities would help those making art focus on art' – musician and community worker Christian 'Bong' Ramilo
The coronavirus pandemic has been somewhat kinder to Australia's Top End than the rest of the country, with snap lockdowns in the Northern Territory lasting less than a week at a time. But according to Darwin-based musician and community arts worker Christian 'Bong' Ramilo, COVID-19 has still negatively impacted the city's thriving community arts sector.
"At Darwin Community Arts, we started working from home by mid-March 2020 and stopped public gatherings two weeks before the [first] general lockdown started across Australia. "This is because we work with vulnerable groups of people and believe they might be more susceptible to infections," Bong says.
When speaking about ongoing funding issues for the arts sector, Bong maintains this was a problem pre-pandemic. He says the Federal government should adopt more sustainable, long-term alternatives, like providing people with a Universal Basic Income (or UBI) where everyone gets a living wage.
"This idea is demonstrated by the measures the government has taken during the pandemic," Bong says.
"JobKeeper and JobSeeker payments have allowed a lot of people to keep going, despite losing their jobs. I believe having basic necessities would help those who want to make art focus on making art, instead of worrying about having a roof over their heads."
At the beginning of the pandemic, Bong began exploring digital forms of communication for Darwin Community Arts. "We had workshops, meetings and even exhibition openings on Zoom," he says. Bong says they experienced "quite a few problems and Zoom fatigue" through this busy schedule of online activities. The team has now developed a fresh approach, combining online and offline forms of communication during periods of lockdown.
While working from home has delivered some challenges, Bong says it's also made him feel closer to the art scene in his country of birth. "Since the beginning of the pandemic, I've been in touch with colleagues in The Philippines more than ever before."
Bong has also taken this opportunity to collaborate with Philippines-based musicians virtually. "We performed a few songs where we recorded ourselves playing our parts separately. Then, we assembled these videos together. I didn't know how to do it before the pandemic, and learning it was a positive experience."
Many artists have learned how to improvise because access to recording studios is cut off during the pandemic, Bong says. "There is no such a thing as a 'studio' during the pandemic. My studio is my kitchen, and the most important equipment I have is my phone." He believes staying at home has helped him become more focused on his art. "I managed to write four songs over the last 12 months. This is a good measure for me since I would normally write one or two."
A respected worker in Darwin's arts community, Bong has been part of many insider discussions regarding how the pandemic has affected the livelihoods of those in his industry, such as people losing their jobs and venues shutting down.
"Those stories are all true," he says. "But since I started working within the community arts sector, I've also noticed not everyone who creates art is employed within the industry. Especially in a community setting—people who dance, sing or make art don't particularly do it because it is their occupation, and they get paid for it. They do it as a part of cultural maintenance. Unfortunately, there was a great reduction in the number of such community activities during the pandemic, due to restrictions on the number of people who could gather."
This interview article was commissioned by Diversity Arts Australia as part of the Creative Lives During Covid series, with support from Create NSW. First published in Philtimes.com.au 13 September 2021.
Dive into the Creative Lives During COVID series
Welcome to Creative Lives, a treasure trove of intimate conversations, original articles, all-inclusive reviews, inspirational case studies and cultural understanding drawing on the professional practice of Australia's diverse creative and artistic talent. The individuals and organisations featured are creating an impact across filmmaking and TV, visual arts, music, performance, literature, and multimedia.
Suzy Wrong interviews Shauntelle Benjamin, Lisa Fa'alafi, Eugyeene Teh, Catherine Van-Davies and Darren Yap.
Simone Amelia Jordan interviews Hoodzy, Hooks, Joe Nemer, Milly Petriella and Mariam Sawires.
Deniz Agraz interviews Avan Anwar, Yolla Baker, Vivian Nguyen, Hangama Obaidullah, Christian Bong Ramilo and Doug Williams.
Tanya Ali interviews A.Girl, Allara, GLO, Strict Face and Natesha Somasundaram.
Hawanatu Bangura interviews Richmond Kobla Dido, Evelyn Duprai, Abu Kebe and Lucky Lartey.
Read Now