This event ended on 21 October, 2021.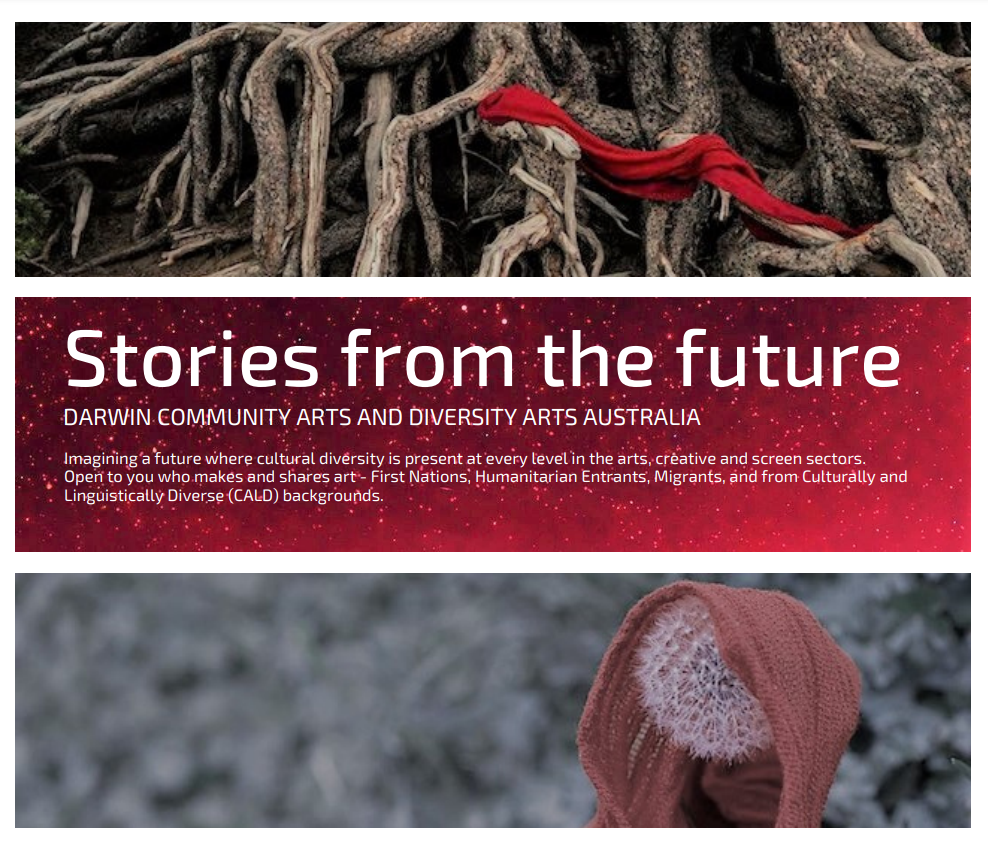 For you who shares and makes art
Stories from the Future – Darwin Community Arts and Diversity Arts invite creatives & arts workers to imagine a culturally diverse arts future
A gathering workshop for the Northern Territory to share stories with storytellers, creatives and arts workers who identify as coming from First Nations, Humanitarian entrants, migrants or CALD (culturally and linguistically diverse) backgrounds.
This is an invitation to come together and imagine a future where cultural diversity is present at every level in the arts, creative and screen sectors.
In these one-day workshop gatherings held throughout the country, participants are guided through a process of shared visioning to imagine what changes might be possible, how they might happen and the legacy we will leave behind; shared in a tangible action plan between creatives, arts workers and decision makers in the arts.
The Northern Territory based gathering co-hosted by Darwin Community Arts (DCA) and Diversity Arts (DARTS) will open the door to new possibilities and decisions about where this conversation can go by centring storytellers as decision makers. The collective action plans will be shared in a national collaborative report with creative participants from across the country sharing feedback and meeting NT arts leaders in a follow-up NT gathering to put plans into action from 2022 onwards. Learn more about Stories from the Future with core support from Australia Council for the Arts.
Workshop Details:
Thursday, 21 October 2021 from 12:30 – 4:30pm ACST will include free lunch, networking and breaks.
Face to face gathering:
Facilitated by Shay Jayawardena (DCA) – at THE COVE (Shop 3/93 Mitchell Street, Darwin)
A First Nations led, nourished and run space.
Online gathering:
Facilitated by acclaimed writer Dr Roanna Gonsalves (on behalf of Diversity Arts and DCA).
Subtitles available over Zoom for accessibility.
Register below to attend either the face to face or online gathering.
Register
Register to attend either the face to face workshop or online workshop.
Register now