Diversity Arts Australia is excited to launch Fair Play Culture Change, a tailor-made capacity-building program for regional NSW and Western Sydney arts and cultural organisations. Supported by Create NSW, this program focuses on building capabilities in working with cultural and linguistic diversity. The program will culminate in organisations writing comprehensive Equity Action Plans, working with Diversity Arts trainers and mentors to advance and develop their equity and inclusion goals.
We are thrilled to be working with the following organisations that are committing to racial and cultural equity:
Our introductory workshop led by DARTS Training Consultant, Dr Görkem Acaroğlu, opens the program on 10th October via Zoom. Contact us if you are interested in undertaking similar training for your organisation.
Mentors
Liliana E. Correa is a writer and adult educator. She has worked in Sydney in the fields of cultural development and education for over twenty years, engaging with exiles, refugees, and migrants from diverse communities. In 2012 she obtained a professional doctorate degree from the University of Western Sydney. Her thesis "The Politics of Cultural Visibility: Latin American Arts Practices in Sydney", interrogated how Latin American artists negotiated the tensión between two different cultures and languages by creating intercultural dialogue and opening spaces for artistic visibility.
Deborah Faye Lee is an actor, writer and maker from Singapore, and a NIDA Acting graduate. As maker, her work, Let's Talk Perspectives, was commissioned by Diversity Arts Australia in 2021 as part of their iamnotavirus initiative, which later toured to Melbourne (Naarm). Her short film, Finding Singapore, screened at the Singapore Art Museum. Recent acting credits include Silenced (Flight Path Theatre), Dracula (NIDA Festival of Emerging Artists), Joseph K (Secret House). Deborah is also passionate about sharing her skills with young people and is currently a casual tutor at NIDA Open. She works on the lands of the Wangal people of the Eora nation.
Jessica Kejun Xu is an educator, social researcher, and emerging artist making community around care, chronic health conditions, and creative play. Jess is reconnecting with herself through movement, poetry, and musical improvising after a decade of training in western classical flute. In a synergy of research, writing and creative practices, they are unravelling intersectional contexts of diasporic dreams, and what it means to make home on someone else's Country. Drawing from research and lived experience, including work with Set the Standard Report 2021 and participation in Disability and Culturally Diverse Internship Program 2022, Jess offers assistance in meaningful workplace changes towards safety and access.
Trainers
Dr Paula Abood is a thought leader in community-engaged practice and cultural development. A creative producer, educator, public speaker, advocate, writer and director with over 30 years of experience, Paula has sustained a commitment to critical practice and cultural work with marginalised communities that speaks to the intersectionality of identities. She has developed resources and taught widely on cultural diversity, human rights, cultural equity, advocacy and community development for TAFE, arts companies, and community education settings. Paula was the inaugural Australia Council's Fellow for Community Arts and Cultural Development and recipient of the Council's Ros Bower Award for lifetime achievement in community cultural development practice.
Dr Görkem Acaroğlu (Trainer Consultant) is a Creative Director, Mentor and Educator with over 20 years experience in programming, producing, teaching and artistic practice. Görkem has specialist expertise in cross-cultural engagement and working with diverse stakeholders. She provides vision and practical expertise to the realisation of multiple projects from the ground up and has worked in a range of arts and creative roles, including currently as Creative Director, Metanoia Theatre, as Arts Participation Manager at the City of Melbourne, and Program Producer at Federation Square. Gorkem was an inaugural Sidney Myer Creative Fellow and was awarded a PhD in 2015 for examining the capacity for technological actors to perform competently with human actors on stage.
Amba-Rose Atkinson (she/her) is a proud Gumbaynggirr nyami from the mid-north coast of NSW. Amba-Rose is currently undertaking her PhD titled "Understanding the relationship between the health of wajaar (Country) and of First Nations waarru-biin (peoples), and its contribution towards environmental, climate, and health solutions" at the University of Queensland. Her work will explore with the community the nexus between Country, climate, and health. Amba-Rose also teaches first year First Nations students at the University of Melbourne; contributes to climate and health research projects; and facilitates First Nations cultural safety workshops with Garuwa. Amba-Rose enjoys cuddles with her puppy Theodore, cooking with her partner Caleb, and catching up with friends and family.
Morwenna Collett is an accomplished consultant, leader and facilitator with direct professional experience working in the arts, government, not for profit and university sectors as a CEO (Accessible Arts), senior manager, project manager (Australia Council for the Arts), lecturer (Sydney Conservatorium), trainer and advisor. She recently completed a Churchill Fellowship, investigating inclusive music programs, venues and festivals which actively engage disabled people across the USA, UK and Ireland. Her work is informed by her own lived experience as a musician with disability and she is sought after nationally and internationally for her expertise in diversity, access and inclusion. She is currently a member of disability and inclusion committees for the Sydney Festival, Perth Festival and City of Sydney and is a trainer with People With Disability Australia and Accessible Arts.
Erfan Daliri is a social change author, educator and consultant with a long and diverse career in community development, management consulting, social change empowerment, education and advocacy. His experience includes marketing and communications strategy, participatory development with remote and refugee communities, cross-cultural communication training, diversity & inclusion consulting, youth empowerment and education, sustainability planning, research, advisory, and motivational speaking. With a Master's Degree in Communication for Social Change, three published books and 20 years of experience working with not-for-profit, corporate and government sectors, Erfan has become one of Australia's most highly sought after social change consultants. Erfan's current roles include the CEO of Kind Enterprises, director of Newkind Social Justice Conference, Refugee Campaign Advisor for Amnesty International Australia, programme coordinator of the National Unity in Diversity Conference and programme advisor to Renew Fest.
Dr Alexia Derbas is the Research and Policy Manager at Diversity Arts Australia (DARTS). She has extensive experience as a sociologist researching racism and anti-racism in the settler-colonial context of Australia. Alexia has worked as a researcher at Western Sydney University, the Australian Human Rights Commission and more, and teaches undergraduate level social science and media and communications. Her work at DARTS is in advocating for racial equity in the arts and creative sectors with evidence: through research, consultation and policy work.
Dr Ruth DeSouza is a 2020 RMIT Vice Chancellor's Fellow, based in the School of Art and a member of the Design and Creative Practice Enabling Capability Platform (ECP). Ruth has extensive networks across the Melbourne creative industries and is on the Fair Play project reference committee. Ruth's origins lie in Goa, India, but she has lived in East Africa and Aotearoa New Zealand and now lives on unceded Boonwurrong country as an uninvited migrant guest. Ruth has been involved in nursing education and the teaching of cultural safety in both Aotearoa and Australia. 
Fotis Kapetopoulos heads up Kape Communications, specialising in culturally diverse communications and research, multicultural media relations, and stakeholder, community, and international engagement. Fotis has 35+ years of experience in the arts and media, working with Neos Kosmos, Australia's leading Greek Australian media, and establishing Independent Multicultural Media Australia (IMMA). Fotis was formerly the CEO of Multicultural Arts Victoria and Multicultural Media and Policy Adviser to Former Victorian Premier, Ted Baillieu. He authored the Australia Council toolkit Adjust Your View, Multicultural Arts Marketing Case Studies, and also The Relationship Is the Project, on Lifted Brow Books. He teaches arts marketing and branding at Melbourne Polytechnic in the MA of Creative Industries and has also taught at Melbourne University and Melbourne Conservatory of Music.
Professor Nareen Young is Industry Professor, Indigenous Policy (Indigenous Workforce Diversity) at Jumbunna Institute of Indigenous Education and Research at University of Technology, Sydney. She conducts the UTS Jumbunna Research Indigenous People and Work Research and Practice Hub, launched in March 2019, an international first institution. Prior to this appointment she has spent over twenty years developing her standing as one of Australia's leading and most respected employment diversity practitioners, leading two peak diversity employment organisations (NSW Working Women's Centre and Diversity Council Australia) to enormous impact and success. She has led diversity thinking and practice in Australia, and most recently as employment lead for PwC's Indigenous Consulting where she developed many concepts for Indigenous employment diversity practice. Nareen is influenced by her own Indigenous and culturally diverse heritages in this regard. She has received many awards and accolades for her work, has commentated widely and published and presented Nationally and internationally. Nareen also has significant governance experience. She spent a three year term as a Director of Indigenous Business Australia and currently serves as Director of Souths Cares, BlakDance and Refugee Talent.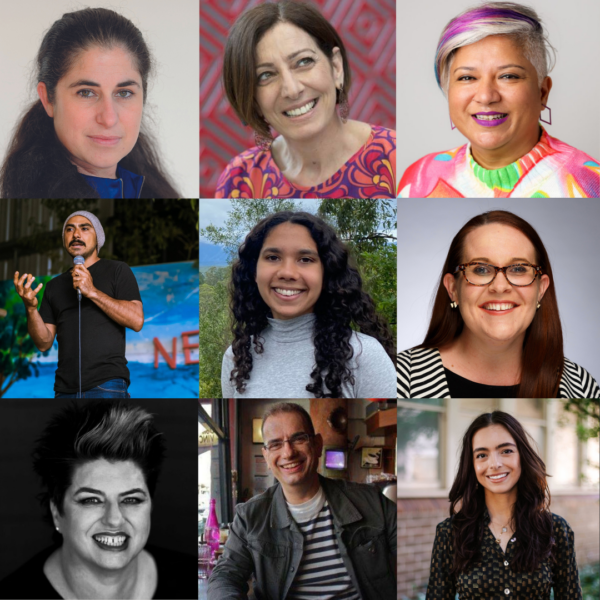 From left to right, top to bottom: Dr Görkem Acaroğlu, Dr Paula Abood, Dr Ruth DeSouza, Erfan Daliri, Amba-Rose Atkinson, Morwenna Collett, Professor Nareen Young, Fotis Kapetopoulos and  Dr Alexia Derbas.