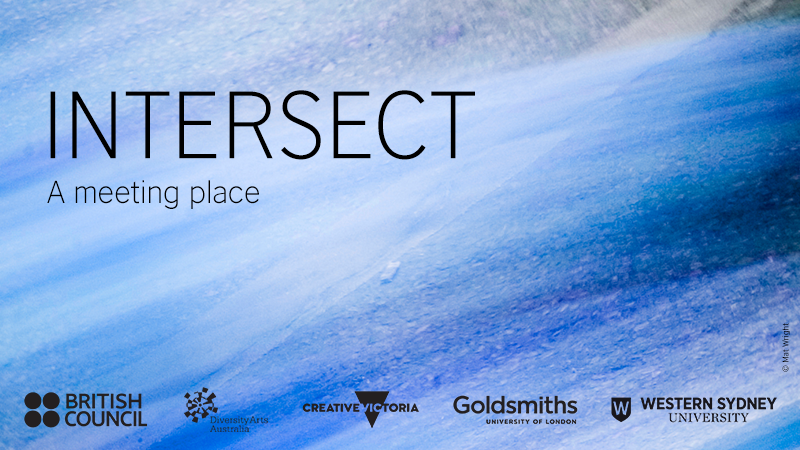 AUS-UK TOURING | PEER MENTORING | KNOWLEDGE EXCHANGE
Diversity Arts Australia (DARTS) and the British Council are partnering to support increased cultural diversity among arts decision makers in Australia and the UK. The work will span three streams; institutional knowledge exchange, peer mentoring among programmers, and touring opportunities for culturally and linguistically diverse artists between Australia and the UK.
Six British and Australian arts professionals will be selected to travel to each other's countries to connect with international colleagues, share ideas and collaborate. INTERSECT is designed to be a peer-to-peer exchange over the course of nine months in support of each other's vision.
Download the Media Release.
The UK Tour: images of the Australian group on tour in the UK with their British counterparts
Day Three of the INTERSECT Tour
See photos of day three here.
INTERSECT will enable influential curators, producers, programmers, publishers and artistic directors to connect, peer mentor and collaborate with international colleagues. In the first year of the programme, the focus will be on people from the performing arts, visual arts, literature and screen sectors.
INTERSECT participants will develop valuable international networks that they can draw upon during their careers, including access to the British Council's extensive global alumni network.
Key Project Dates
  13 June – 02 July 2018 (EOI's open)
  10 – 15 September 2018 (UK visit)
  Early 2019 (Australia visit)
Why INTERSECT?
While Australia and Britain both boast rich multicultural communities with talented, diverse artists, their work is less represented in festivals, on stage or on gallery walls. In both countries, there is still under-representation and barriers to inclusion for artists from culturally diverse backgrounds.
According to the Australia Council of the Arts' 2017 Making Art Work report, people from a non-English speaking background account for only 10 percent of the arts workforce, compared to 18 percent of the general workforce. It's a similar story in the UK, where The Arts Council of England found that people from a minority ethnic background make up 11 percent of staff at their National Portfolio Organizations and 4 percent of staff at Major Partner Museums compared to 16 percent of the general workforce.
"The UK and Australia are very different on the one hand yet also share a lot of commonalities in terms of the histories of migration and colonisation. We share similar issues in terms of the under-representation of people from culturally diverse backgrounds."
INTERSECT was developed from stakeholder consultation which began with workshops facilitated by DARTS and Footscray Community Arts Centre. The Advisory Group includes leading Australian and British arts practitioners of Aboriginal and Torres Strait Islander, culturally and linguistically diverse and minority ethnic backgrounds.
INTERSECT is designed to be a cohort of colleagues, a peer-to-peer exchange over the course of nine months to support each other's vision.
"INTERSECT seeks to strengthen diversity and opportunity in a place where power lies – among those who decide whose work is seen, what is seen, how it is seen and who sees it, thereby multiplying the impact."
INTERSECT's three key components
Knowledge exchange and peer mentoring for six curators, programmers, producers and publishers who identify as Aboriginal and Torres Strait Islander or being from a culturally and linguistically diverse or minority ethnic background* to travel between the UK and Australia to share experiences and best practice with their peers.

A digital online resource for arts practitioners and organisations with research translation and case studies made publicly available. This platform will share knowledge and leading practice. Partner research organisations include the Institute of Creative and Cultural Entrepreneurship, Goldsmiths, University of London, Western Sydney University and Diversity Arts Australia.

A touring platform that supports British artists from minority ethnic (ME) backgrounds touring their work in Australia.
"The under-representation of cultural diversity in the arts is not only an attitudinal issue but also institutional and structural, and things can only shift when all of these elements change."
INTERSECT seeks to contribute to social cohesion by providing multiple ways of seeing the world through the arts. It hopes to increase access and opportunities to artists from diverse backgrounds through creative exchanges, an online platform and touring culturally diverse work. It will strengthen international collaboration between decision makers, ultimately shifting what work is seen, how it is seen and who sees it.
* For the purposes of this programme we will use the terminology Aboriginal and Torres Strait Islander, First Nations, culturally and linguistically diverse (CaLD) and minority ethnic (ME). We understand and acknowledge that many people choose to self-identify differently.
Interested in an arts exchange in the UK?
Visit the British Council website for information on eligibility and to apply
Applications close 2 July 2018