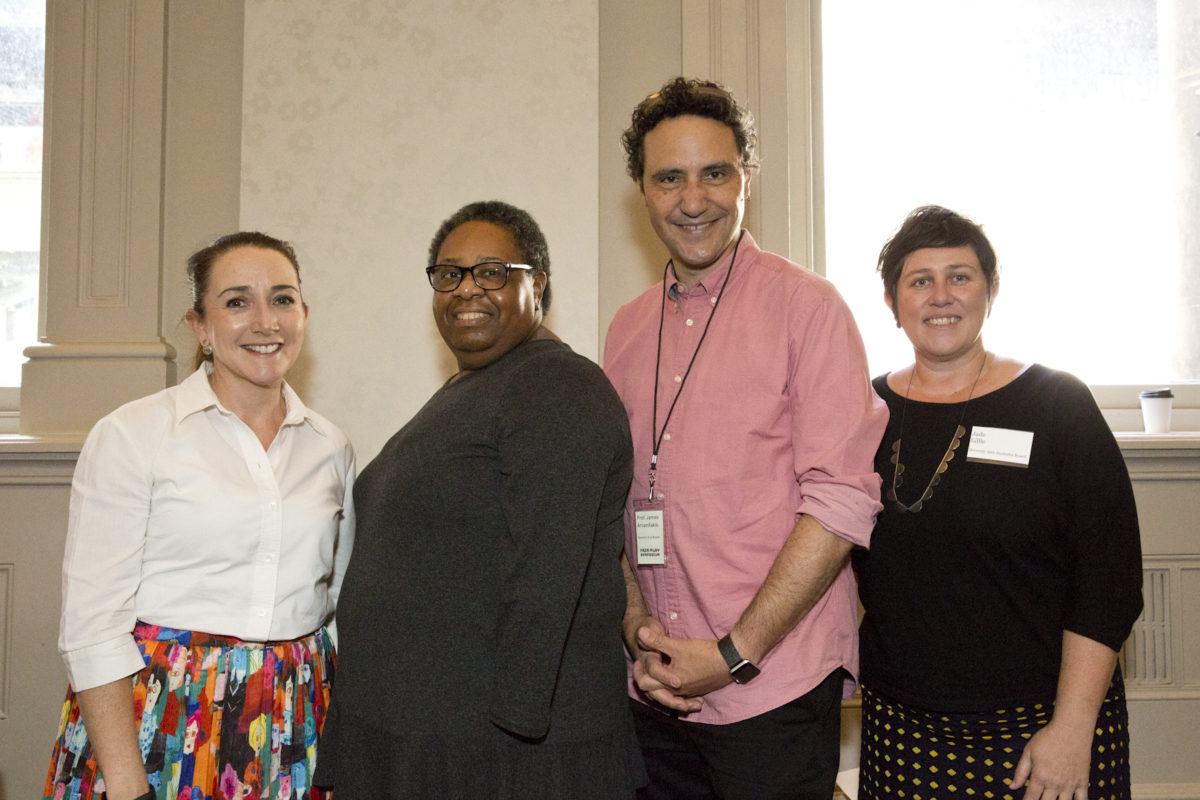 Our board
Debbie Lee Chair, Diversity Arts Australia Board
Debbie Lee is Matchbox Pictures' Director of Scripted Development.  Debbie provides creative leadership to the development of scripted content across a broad range of genres and markets. She also serves as an executive producer on a number of projects – most recently Safe Harbour, The Family Law, Mustangs FC, Hungry Ghosts and The Heights.  Before joining Matchbox, Debbie was ABC TV's Head of Comedy where she commissioned and executive produced shows including A Moody Christmas, Please Like Me, Laid, It's A Date, Upper Middle Bogan and The Strange Calls. Prior to that she worked as a Series Producer for experimental short film show, eat carpet for SBS and then as a Commissioning Editor for Drama and Comedy for SBS Independent. There she commissioned shows including Wilfred, John Safran vs God, Kick and The Circuit. 
Seb Chan Director
Seb is Chief Experience Officer at the Australian Centre for the Moving Image, Melbourne. He transformed the Cooper Hewitt, Smithsonian Design Museum in New York with a human-centred digital renewal and is known for his ground-breaking work with Sydney's Powerhouse Museum.
He is a senior executive change agent with deep experience working with museums, libraries and cultural organisations.
Currently, Seb is interested in the intersection between digital and physical spaces, cultivating innovation and experimentation in teams, and helping organisations deal with changing technologies. He has a strong history of successful innovative project development and creative direction and leadership in non-profit and public sector settings. He has also led a parallel life in electronic music and art organising and curating festivals, international touring, and publishing.
Shalini Perera Director
Shalini Perera is a Senior Criminal Lawyer with the Legal Aid Commission of New South Wales. With a fierce commitment to achieving justice for disadvantaged and marginalised communities, Shalini has represented thousands of people without the financial means to access legal representation over her 20 years with Legal Aid. She has also worked with the North Aboriginal Justice Agency in Darwin, advocating for one of the most disempowered groups in Australia, and pro-bono for community legal centres and arts festivals.
Shalini has supported the work of community organisations by providing legal advice, presentations, content for resources and reports. For five years she served on the management committee of the Macquarie Legal Centre (which later merged to become the Western Sydney Legal Centre), including as the chairperson. With good management and strong advocacy this legal centre grew during her tenure to be the largest legal centre in Western Sydney.
Anthony Peluso Director
Anthony Peluso is the Arts Programs Director at Country Arts SA working closely with the Creative Programs, Arts Centres and Marketing teams. He oversees the development of the company's artistic programs and, with the CEO, he strengthens the network of stakeholders and partners which support the organisation's activities in regional South Australia. He joined the organisation in 2008 as the Executive Producer, Performing Arts.
Anthony has undertaken a number of roles including as SA Manager Musica Viva Australia, Music Program Manager, Adelaide Festival of Arts, and has worked at the Adelaide Symphony Orchestra and Fanfare Artist Management and managed a number of chamber ensembles.
As Manager, Artistic Planning for the Tasmanian Symphony Orchestra from 2003 to 2007, he helped initiate activities such as the Australian Music Program, an annual Sydney Season and the 2005 tour to Japan.
On weekends Anthony can be found searching through antique stores, or enjoying good food at any restaurant with tasty desserts on the menu.
Photo: Chris Herzfeld
Ade Djajamihardja Director
Ade's career began at ABCTV aged 19 working on many iconic Australian TV shows including COUNTDOWN REVOLUTION and THE BIG GIG. Other highlights include being CEO of Ten on Ten Pictures and Enfiniti Productions (Malaysia) where he was a co-producer for what was then the biggest historical epic film in Malaysia's history, PUTERI GUNUNG LEDANG (A LEGENDARY LOVE), the first film from Malaysia to have been shortlisted in consideration for Oscar nomination. Ade was a producer of SALAM CAFÉ (SBS 2008), the first ever Muslim entertainment program screened in prime time in the Western world, and co-produced KAMBING JANTAN (THE MALE GOAT) which reached number one at the Indonesian box office.
In 2011, Ade joined the not-for-profit board of Disability Media Australia, just three days prior to a massive stroke. After this forced six-year hiatus, in 2017 he completed and graduated in the Master of Screen Arts & Business (AFTRS). In 2019 Ade was a producer of AMAR (SBS); a short film exploring discrimination and celebrating inclusion. Ade is also a best-selling author. As an Indonesian-born Australian from a Muslim family, and as a stroke survivor living with disability, Ade contributes a rich and unique perspective on inclusive storytelling.
Georgie McClean Director
Dr Georgie McClean is a media/ arts professional with over 15 years' experience in public policy and programs. She is the Acting CEO (formerly Head of Strategy and Governance) at the of the Australian Film, Television and Radio School (AFTRS). Until 2016, she headed up Strategy and Communications at Screen Australia, where she commissioned major research studies such as Seeing Ourselves: Cultural Diversity in TV Drama and Screen Currency. Prior to that, was Manager of Policy and Research at SBS – an organization she worked in, in various roles, for nine years.  With an applied research Doctorate of Cultural Research on cultural diversity in media and strong practical knowledge of the screen and media industries, Georgie is particularly interested in translating between ideas, research and practice for the benefit of public policy and audiences. She has run her own consultancy: The Gist Strategy and Engagement, which including research and writing the Inclusive Pathways Framework for Storytelling Talent. Georgie has been instrumental in setting up and managing the Screen Diversity and Inclusion Network Georgie was born in Canada, raised in Indonesia and has lived in Argentina and Japan.
Nareen Young Director
Professor Nareen Young is Industry Professor, Indigenous Policy (Indigenous Workforce Diversity) at Jumbunna Institute of Indigenous Education and Research at University of Technology, Sydney. She conducts the UTS Jumbunna Research Indigenous People and Work Research and Practice Hub, launched in March 2019, an international first.
 Prior to her current appointment Nareen has spent over twenty years developing her standing as one of Australia's leading and most respected employment diversity practitioners, leading two peak diversity employment organisations (NSW Working Women's Centre and Diversity Council Australia) to enormous impact and success.  She has lead diversity thinking and practice in Australia, and most recently as employment lead for PwC's Indigenous Consulting where she developed many concepts for Indigenous employment diversity practice. Nareen is influenced by her own Indigenous and culturally diverse heritages in this regard. She has received many awards and accolades for her work, has commentated widely and published and presented Nationally and internationally.
 Nareen also has significant governance experience. She spent a three year term as a Director of Indigenous Business Australia and currently serves as non-executive Director of Souths Cares, BlakDance, Refugee Talent and Per Capita.
Karen Soldatic Director
Associate Professor Karen Soldatic is a sociologist whose research processes and practices aim to understand and support the exploration of intersectional identities cutting across issues of gender, disability, race and ethnicity and Indigeneity.  Karen came to Western Sydney University as an Australian Research Council DECRA Fellow (2016–2019) and is now based at the School of Social Sciences at Western Sydney University. She was awarded a Fogarty Foundation Excellence in Education Fellowship for 2006–2009, a British Academy International Fellowship in 2012 and a fellowship at The Centre for Human Rights Education at Curtin University (2011–2012), where she remains an Adjunct Fellow. Her research on global welfare regimes builds on her 20 years of experience as an international, national and state-based senior policy analyst, researcher and practitioner. She obtained her PhD (Distinction) in 2010 from the University of Western Australia.