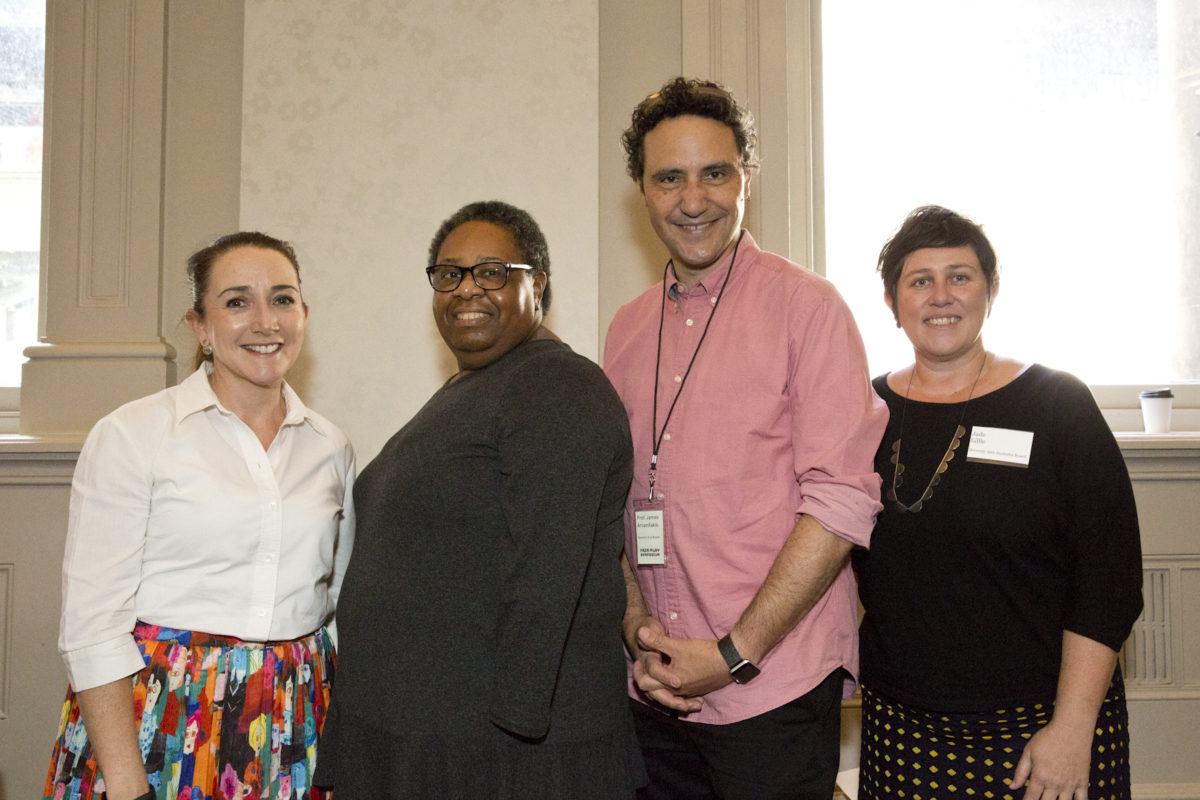 Our board
James Arvanitakis Chair, Diversity Arts Australia Board
Professor James Arvanitakis is the Pro Vice Chancellor (Research and Graduate Studies) at Western Sydney University (WSU). A lecturer in the Humanities and a member of the University's Institute for Cultural and Society, he founded The Academy at Western that received an Australian Financial Review higher education excellence award (2016) and the Western Sydney Leadership Dialogue Engagement Award (2017).
James is internationally recognised for his innovative teaching style and was the recipient of the Prime Minister's University Teacher of the Year Award in 2012 and an Eminent Researcher Award from the Australia India Education Council in 2015.
A regular media commentator, he has over 100 publications, and his research includes future of universities and citizenship. He works closely with artists to document their work and writes how artists have become the social conscious of the contemporary world.
He is the Chair: Diversity Arts Australia, a Board member: Public Education Foundation, Academic Fellow: Australia India Institute, Associate Vice Chair: Global Listening Centrea Fellow: Centre for Policy Development and on the Advisory Board Member: Herbert and Valmae Freilich Foundation that confronts racism and bigotry.
Joanne Pratt co-Deputy Chair
Joanne is the General Manager at Vulcana Women's Circus,  in addition to running her own artist management company, Sage Music, specialising in Indigenous and world music. Joanne previously served on the Board, and was the CEO/Artistic Director of the Brisbane Multicultural Arts Centre for seven years. Jo has a proven track record of success in meeting the challenge of volatile political and economic environments, She started with BEMAC at a point of severe financial crisis and worked together with the Board, members and artists to steer the organisation into a position of strength and leadership within the arts sector, with a focus on developing income generation capacity and strategically positioning the organisation to take advantage of new programming and sustainability opportunities. Joanne was the CEO/Artistic Director of the Brisbane Multicultural Arts Centre for seven years.
Seb Chan Director
Seb is Chief Experience Officer at the Australian Centre for the Moving Image, Melbourne. He transformed the Cooper Hewitt, Smithsonian Design Museum in New York with a human-centred digital renewal and is known for his ground-breaking work with Sydney's Powerhouse Museum.
He is a senior executive change agent with deep experience working with museums, libraries and cultural organisations.
Currently, Seb is interested in the intersection between digital and physical spaces, cultivating innovation and experimentation in teams, and helping organisations deal with changing technologies. He has a strong history of successful innovative project development and creative direction and leadership in non-profit and public sector settings. He has also led a parallel life in electronic music and art organising and curating festivals, international touring, and publishing.
Jade Lillie Director
Jade has been working in and with communities for the past 15 years. She is a passionate and experienced practitioner, arts executive and facilitator. With a background in arts, education and international engagement, Jade is the former Director and CEO of Footscray Community Arts Centre in Melbourne. She has been developing her practice and philosophy around the belief that arts and cultural development, underpinned by sound engagement and social justice frameworks, are tools for social and systemic change.
Having lived and worked extensively throughout Australia and Southeast Asia, Jade's areas of expertise include: arts management, community cultural development, young people, education (alternative and mainstream) and training, facilitation, consultation and engagement, change management, concept and framework development, policy development, strategic and program development and implementation. She has worked in a variety of government and non-government contexts including: Education Queensland, NT Department of Education and Training, Arts Queensland, SpeakOut (now known as Human Ventures), Brisbane City Council and Contact Inc.
In 2009, Jade was the recipient of a Kirk Robson Award and was recognised as a young cultural leader in community cultural development practice. In 2010, she was an Asialink Arts Management Resident with Makhampom Theatre in Thailand. Prior to her arrival in Melbourne (2012), Jade was based in Chiang Mai, Northern Thailand working with Australian Volunteers International as an Arts Management Advisor for Gabfai Community Theatre and community based non-government organisations who are working with communities, around human rights and trafficking issues. In 2013, Jade finished a two year research project called: Australia and SE Asia – CACD Practice and International Collaborations. This work was supported by the Australia Council.
Sheila Ngoc Pham Director
Sheila Ngoc Pham has a multi-disciplinary background as a writer, editor, producer, radio maker and communications professional in Australia, the UK and Thailand. She has more than 15 years of experience across a range of sectors including the arts, media, government and public health. She currently serves on the City of Canterbury-Bankstown's Arts & Cultural Reference Group.
Sheila has held digital and editorial roles with the ABC, and continues to produce for ABC Radio National. She has facilitated and produced events for Vivid Sydney, Writing NSW, Africultures and Inner West Council, among others. She was a curator for TEDxSydney 2012 and 2013, and directed the first TEDx in Chiang Mai in 2011. Her writing has been widely published in Australian and international publications, and staged at Carriageworks, Casula Powerhouse Arts Centre and Sydney Festival.
Sheila has undergraduate degrees in psychology and linguistics and postgraduate degrees in public health and bioethics. She is currently undertaking a PhD at the Australian Institute of Health Innovation and lectures in public health ethics at Macquarie University.
Shalini Perera Director
Shalini Perera is a Senior Criminal Lawyer with the Legal Aid Commission of New South Wales. With a fierce commitment to achieving justice for disadvantaged and marginalised communities, Shalini has represented thousands of people without the financial means to access legal representation over her 20 years with Legal Aid. She has also worked with the North Aboriginal Justice Agency in Darwin, advocating for one of the most disempowered groups in Australia, and pro-bono for community legal centres and arts festivals.
Shalini has supported the work of community organisations by providing legal advice, presentations, content for resources and reports. For five years she served on the management committee of the Macquarie Legal Centre (which later merged to become the Western Sydney Legal Centre), including as the chairperson. With good management and strong advocacy this legal centre grew during her tenure to be the largest legal centre in Western Sydney.
Anthony Peluso Director
Anthony Peluso is the Arts Programs Director at Country Arts SA working closely with the Creative Programs, Arts Centres and Marketing teams. He oversees the development of the company's artistic programs and, with the CEO, he strengthens the network of stakeholders and partners which support the organisation's activities in regional South Australia. He joined the organisation in 2008 as the Executive Producer, Performing Arts.
Anthony has undertaken a number of roles including as SA Manager Musica Viva Australia, Music Program Manager, Adelaide Festival of Arts, and has worked at the Adelaide Symphony Orchestra and Fanfare Artist Management and managed a number of chamber ensembles.
As Manager, Artistic Planning for the Tasmanian Symphony Orchestra from 2003 to 2007, he helped initiate activities such as the Australian Music Program, an annual Sydney Season and the 2005 tour to Japan.
On weekends Anthony can be found searching through antique stores, or enjoying good food at any restaurant with tasty desserts on the menu.
Photo: Chris Herzfeld