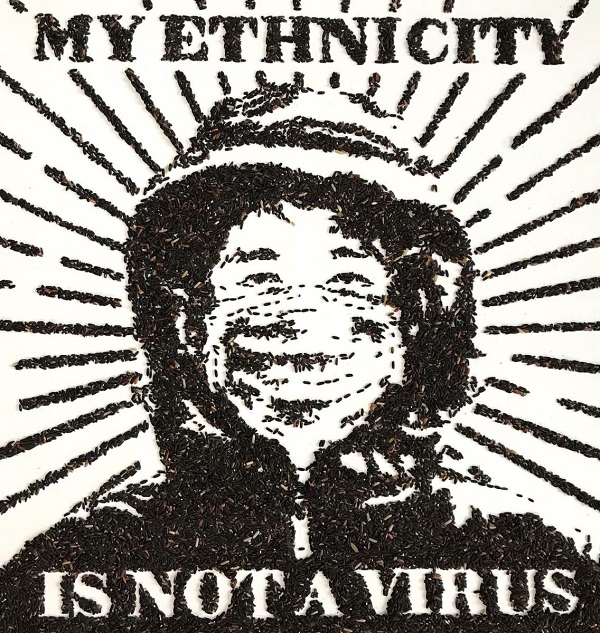 I Am Not A Virus is our artist-led project to confront the xenophobia and racism that accompanied the arrival of the COVID-19 pandemic in 2020. We received 100+ proposals from Asian-identifying creatives across the country in a huge range of practice areas: visual arts, writing, poetry, performance, screen, audio-visual, music, and comedy, and have selected 48 artists to commission work that will be showcased on the project website. Congratulations to the creatives.
The project aims to bust stereotypes and provide a counter-narrative to issues of long-standing racism in Australia that are revealing themselves in the face of COVID-19. We wanted works that engage, inspire, start conversations, which can be shared widely to counter racism in our communities.
Thank you to our selection panel: Mikala Tai (4A Centre for Contemporary Asian Art), Imogen Yang (Insightful, NSW), Hoa Pham (Peril magazine, VIC) and Joon-Yee Kwok (Australian Bureau of Asian Creatives, QLD); our funders: Australia Council, City of Sydney and City of Parramatta; and, partners: Asian Australian Alliance, Democracy in Colour and 4A Centre for Contemporary Asian Art.
Successful Creatives are listed in alphabetical first-name order:
Aimee Butler (TAS)
Amy Zhang (NSW*) + Maggz (VIC)
Ana Nguyen (NSW*)
Andrea Srisurapon (NSW*)
Audrey Alim (NSW*)
Benjamin Tsok Wee Yap (VIC)
Celine Cheung (NSW*)
Christine Lai (NSW**)
Deborah Faye Lee & Sarah Tan (NSW* & VIC)
Derek Ho (VIC)
Desmond Mah (WA)
Dyan Tai (NSW*)
Eric Jiang (NSW*)
Eunice Andrada (NSW**)
Huyen Hac Helen Tran (NSW**)
Jacqueline Dixon (VIC)
Jacqueline (Jackie) Lo (VIC)
Jacqueline Mohr (NSW*)
Jacqueline Pon (NT)
Jayanto Tan (NSW**)
Jin Hien Lau (NSW**)
Jocelin Meredith (VIC)
Joe Lui Shang Yu (WA) & Deborah Ong (VIC)
Judy Kuo (VIC)
Kim Pham & Alaa Alfaraon (NSW**)
Lawrence Liang & Christian Tilla (NSW*)
Kelly Huynh (NSW*)
Lili Mikami (QLD)
Maria Tran (NSW*)
Matcho Cassidy (SA)
Mimi Leung (VIC)
Nathan Liow (VIC)
Priyanka Bromhead (NSW**)
Rowena Rasmussen (NSW*)
Sai-Wai Foo (VIC)
Sara Zeinab Mir (NSW)
Sean Stephen Ryan (VIC)
Sophia Cai (VIC)
Sophie Zhou (NSW*)
Susan Ling Young (NSW**)
Sweet and Sour (ACT)
Sydney Farey (ACT)
Tien Tran (NSW*)
Tina Huang (NSW*)
Thuy Nguyen (NSW*)
Wina Jie (VIC)
Youbi Lee (VIC)
Zachary Lopez (NSW*)
*City of Sydney funded recipient.
**City of Parramatta funded recipient.