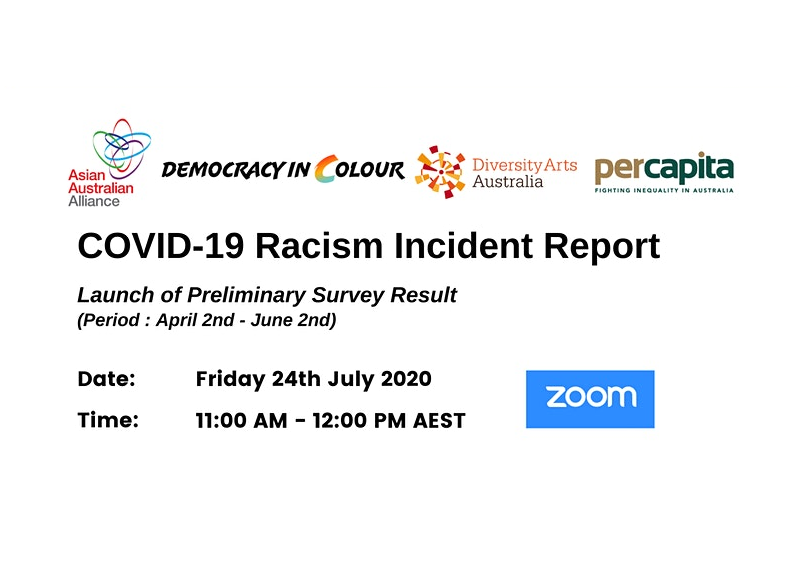 Reporting COVID-19 Racism Against Asians in Australia 
The Asian Australian Alliance, Being Asian Australian, Per Capita Think-tank, Diversity Arts Australia and Democracy in Colour have joined forces to collaborate on the COVID-19 Coronavirus Racism Incident Report Survey and to develop campaigns and artist-led projects to address #CoronaRacism.
Since January 2020, there has been an increase of incidents of racism coming out of the COVID-19 Coronavirus Pandemic in Australia. This racism is targeted at those who have Chinese origins/East Asian origins but any person in Australia who is of Asian background is susceptible to this racism.
A number of these incidents have been reported to the police or featured on Australian/global news/media outlets. However, it is most likely that a large portion of these incidents would go unreported, and the purpose of this reporting mechanism is to capture enough data to understand the frequencies of these attacks that are related to the pandemic.
Responses to this reporting mechanism will be used for analytical purposes as well as help in raising the voices for Asians and Asian Australians in Australia.
Book your free ticket to watch the reporting panel on July 24.
Read the results here.
Host:
Thomson Ch'ng, NSW Convenor, Asian Australian Alliance
Speaker:
Erin Chew, National Convenor, Asian Australian Alliance
Molina Asthana, Victoria Convenor, Asian Australian Alliance
Osmond Chiu, Research Fellow, Per Capita Think-tank