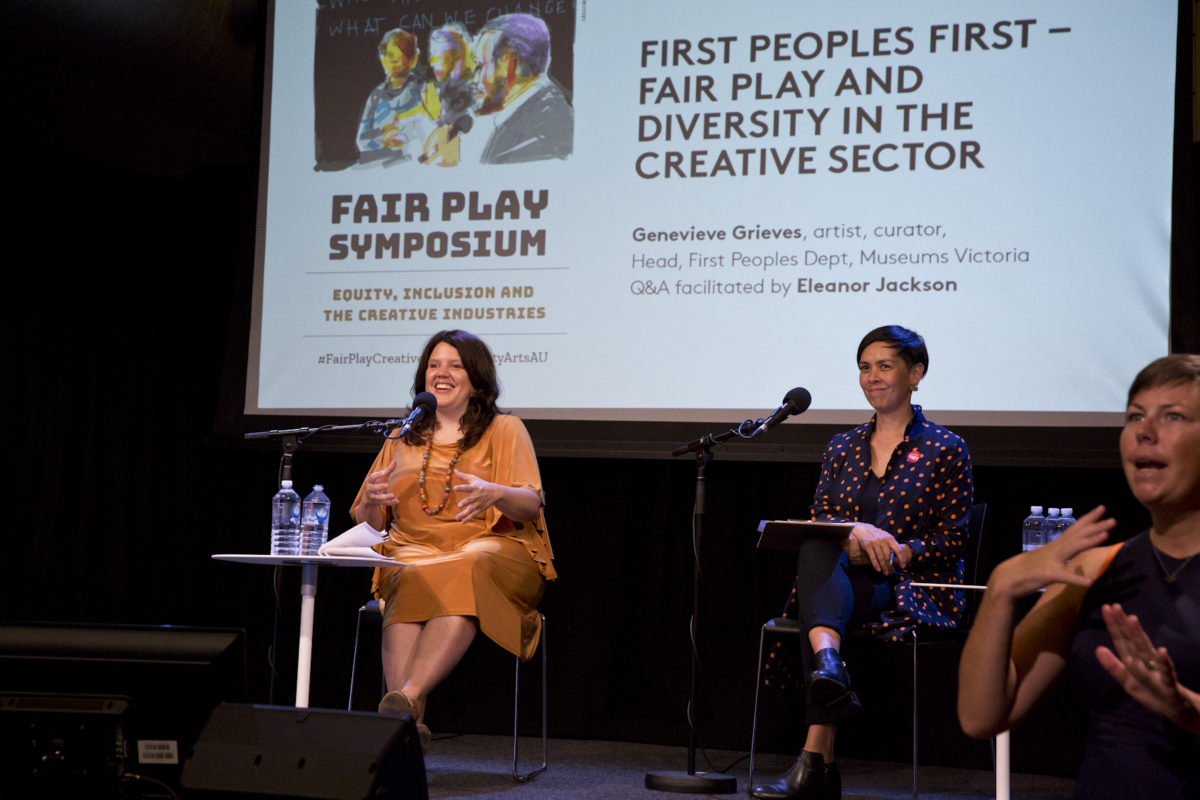 It's here! The Colour Cycle podcast SEASON 2!
The Colour Cycle Podcast is packed with important ideas, strategies and insights from leading thinkers in the arts. If you're committed to equity in the creative sectors, then you don't want to miss this. This season features a special recording of Fair Play season live at the Diversity Arts Symposium, Wheeler Centre in Melbourne.
We're sharing these thought-provoking and courageous conversations far and wide. Conversations and experiences from First Nations trail blazers Genevieve Grieves and Tony Briggs, international guests like Deborah Williams from the UK's Creative Diversity Network, Disability leader, artist Caroline Bowditch, Aseel Tayah, Paula Abood, and many more.
The Colour Cycle Podcast is on all good listening platforms: Spotify, Apple Podcasts, Anchor, Castbox, Castro, Deezer, Google Podcasts, iHeartRadio, Listen Notes, Overcast, Playerfm, Pocket Casts, Podcast Addict, PodChaser, RadioPublic, SimpleCast, Soundcloud, Stitcher, and TuneIn.
Legendary hip-hop and soul artist MC Trey composed our title track.
Support Diversity Arts on Patreon to help us continue to deliver our Colour Cycle podcast series.
---
The Colour Cycle – Season 2
Episode 1: First Peoples First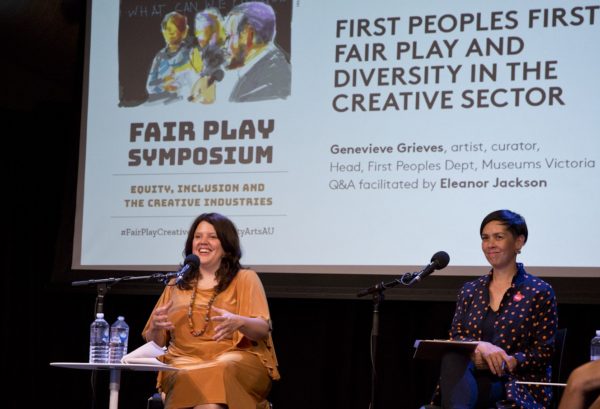 First People's First, how do cultural organisations, institutions and arts practitioners put this principle into practice in ways that move beyond tokenism? This is one of the critical issues unpacked in depth by Genevieve Grieves. Genevieve is a Worimi woman from southeast Australia based in Naarm, sometimes known as Melbourne. She's an award-winning artist, curator and the Manager, Transformation Strategies in the First Peoples Department at Museums Victoria. This is her keynote address from the Fair Play Symposium, two days of talks and performances put on by Diversity Arts Australia at The Wheeler Centre. Thanks to all of our Fair Play symposium partners: co-presenter The Wheeler Centre, core funder Creative Victoria, sponsors Ai-Media, British Council, Screen Australia. Koorie Heritage Trust Inc, Arts Access Victoria, Multicultural Arts Victoria, Arts Front, Feral Arts, Regional Arts Victoria, Abbotsford Convent, Footscray Community Arts Centre.
---
Episode 2: Towards Creative Sector Self-Determination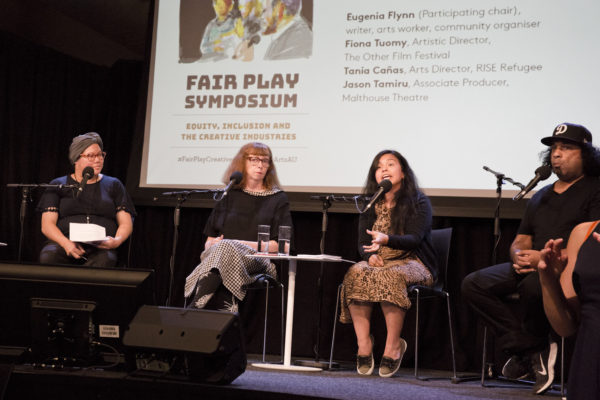 Has representation become a buzzword? The representation box is often ticked when "People of Colour", "First Nations" people and "People With Disability" are 'invited into' the conversation for a moment. But how can we create real systemic change? Tune in to the panel: Towards Creative Sector Self-Determination from our Fair Play symposium at the Wheeler Centre. Panelists: Eugenia Flynn (Participating Chair + Fair Play Creative Producer), Fiona Tuomy (Artistic Director, The Other Film Festival), Tania Canas (Performer, lecturer at the Victorian College of the Arts, RISE Refugee member) and Jason Tamiru (Proud Yorta Yorta man, Associate Producer, Malthouse Theatre).
---
Episode 3: Diversifying Screen and Stage – Deborah Williams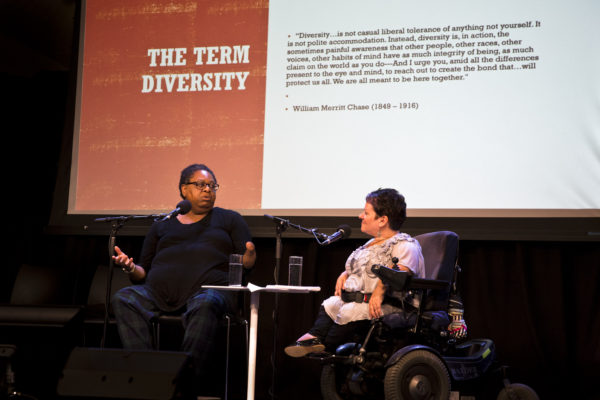 Tune in to Diversifying Screen and Stage with Deborah Williams, artist and CEO of the Creative Diversity Network (CDN) in conversation with performer, teacher and CEO of Arts Access Victoria​ Caroline Bowditch at The Wheeler Centre for Books, Writing and Ideas​ for Diversity Arts' Fair Play season. Deborah Williams tackles assumptions about gender, race, disability and class through screen and stage work in this week's episode of The Colour Cycle.
Episode 4: State of Play – Equity and Inclusive Practices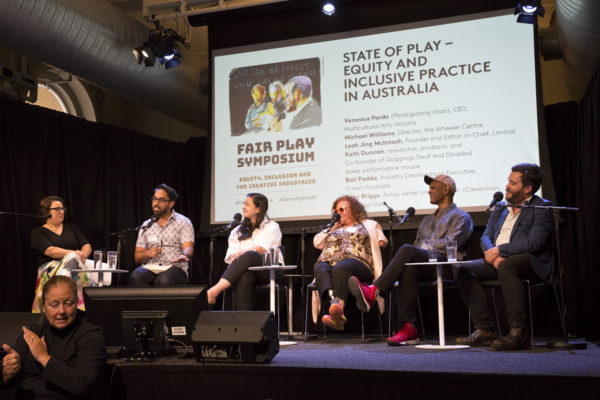 So what is the status quo in terms of access and inclusion in Australia's creative sector for people from First Nations backgrounds, People with Disability and culturally and linguistically diverse or migrant communities? How do you dismantle existing systems and structures of power? These are just some of the issues tackled by this panel on the 'State of Play – Equity and Inclusive Practices' in this week's episode of The Colour Cycle. Featuring panelists: Veronica Pardo (Participating Chair, CEO – Multicultural Arts Victoria), Tony Briggs (Acclaimed actor, writer, producer – Cleverman, The Sapphires), Michael Williams (Director – Wheeler Centre), Leah Jing McIntosh (Founder and editor-in-chief – Liminal), Bali Padda (Industry Development Executive – Screen Australia) and Kath Duncan (Researcher, producer, co-founder – Quippings deaf and disabled queer dance troupe).
---
Episode 5: The Diversity Monologues
After years of talking about diversity in the arts sector, it's starting to feel like a monologue that only reaches an audience of our own communities, say Dr Paula Abood and Aseel Taya, a Palestinian creative director and installation artist. Aseel says when applying for arts funding, the process is not tolerant of people from migrant backgrounds and even less accommodating for those pitching art that is deemed not "relevant" for Australian audiences. Dr Paula Abood is a writer, creative producer and educator, and a leading figure in the space for 30 years. She's calling for the entire funding regime to be restructured because currently the major organisations take the bulk of the money while the small-to-medium sector, where diversity flourishes, is left with the crumbs. Tune into this week's Fair Play episode of The Colour Cycle Podcast.
---
Episode 6: Take it from the Top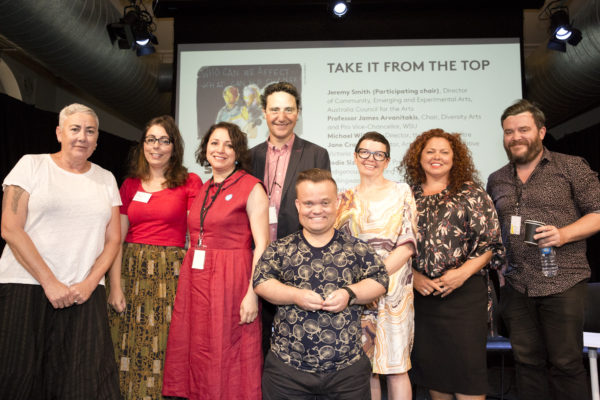 In the creative sector, the most visible marker of power can be seen by who occupies positions of leadership, who is on the boards, who judges the awards and runs the company? Who hires? Who dispenses funds? Who signs off on the program or decides what work gets made? Tune in to the "Take it from the Top" panel at the Fair Play Symposium in Melbourne – hosted by Diversity Arts Australia. Panelists include: Jodie Sizer (Co-CEO – Price Waterhouse Coopers Indigenous Consulting); Jeremy Smith (former Director  -Community, Emerging & Experimental Arts at the Australia Council for the Arts); Koraly Dimitriadis (Cypriot-Australian poet, writer, actor & performer); Jane Crawley (Director – Arts Investment, Creative Victoria); Michael William (former Director – The Wheeler Centre); Katrina Segdewick (CEO – the Australian Centre for the Moving Image (ACMI) and Professor James Arvanitakis (former Chair – Diversity Arts Australia & pro Vice Chancellor – Western Sydney University).
---
Episode 7: Building Aboriginal Cultural Competency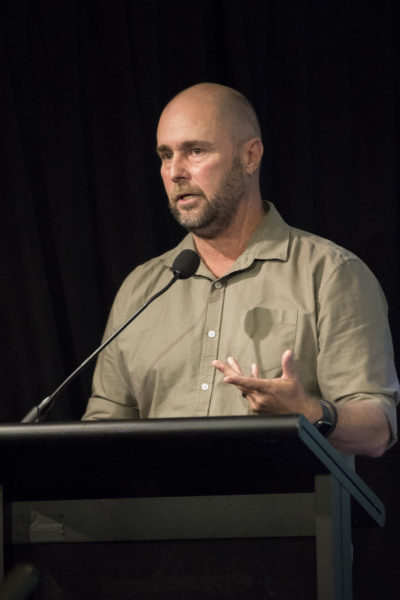 Diversity and inclusion employment practices are often focused on recruitment, but not on retention. Promoting cultural competency in the creative sector is a step towards creating safe spaces that foster and encourage equity. In his keynote at the Fair Play symposium, Rob Hyatt from the Koorie Heritage Trust talks about the importance of identity in workplaces, and specifically addresses the arts sector in his keynote about cultural safety and inclusion.
Rob Hyatt is an Aboriginal man with ties to the Lake Tyers community and the Wotjobaluk in Western Victoria. He is the education manager of the Koorie Heritage Trust and works to foster an understanding of contemporary Aboriginal communities through an awareness of the past.
Rob explains the importance of identity and connection to Aboriginality through heart and mind.
---
Episode 8: Learning from Frida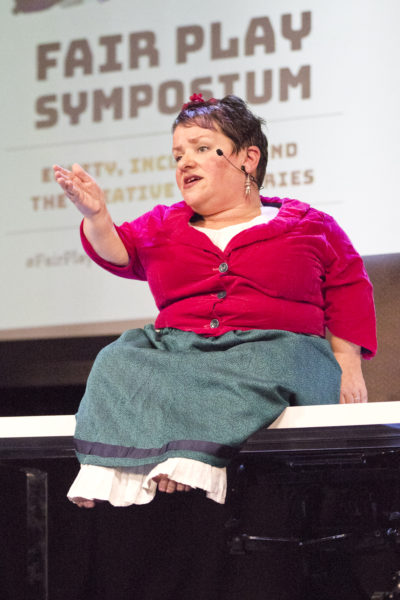 In 2014, Caroline Bowditch premiered a dance theatre performance called "Falling in Love with Frida" with both disabled and non-disabled performers, and sign language interpretation embedded at its centre, the award-winning and critically acclaimed piece was shown 93 times to sold-out audiences across the UK and internationally. In this keynote address, Executive Director of Arts Access Victoria Caroline Bowditch performs a monologue from this piece and then talks about her obsession with Frida Kahlo. She also talks about why it's important to reclaim Frida Kahlo as a disabled artist, and why her work doesn't focus on accepted mainstream conventions.
---
Episode 9: Learning from each other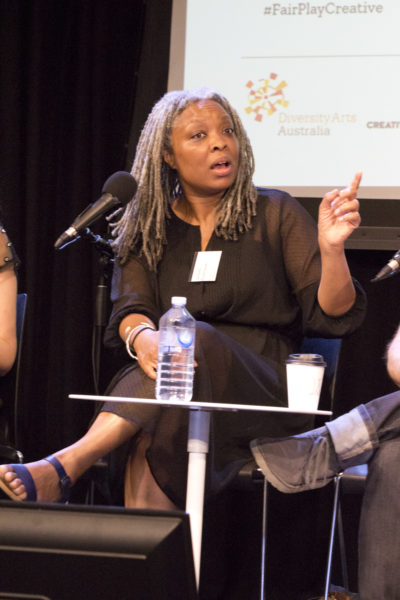 Genuine diverse leadership has the potential for the audiences who are engaging with culture to see themselves, their narratives and histories, reflected in what they see and experience. This panel discussion includes arts leaders from the UK and Australia who participated in the inaugural year of the INTERSECT program. INTERSECT is a joint British Council and Diversity Arts Australia knowledge exchange that aims to strengthen international collaboration and connections between diverse and indigenous arts leaders in both countries. Featured panelists: Anna Hay (Participating Chair – British Council Australia), Adelaide Bannerman, Candy Bowers (Black Honey Company), Jacob Boehme (Yirramboi Festival), Mikala Tai (4A Centre for Contemporary Asian Art), Abdul Shayek (Fio), Natalie Ibu (Tiata fahodzi).
---
Episode 10: The politics of intersectionality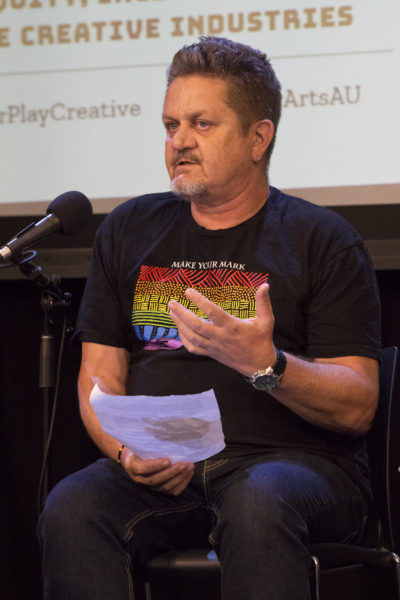 Intersectionality can mean different things for different people and can be applied across a range of settings and in different ways it enables us to understand identity as a complex multi-dimensional category but it can also be an approach to the way we move and work in the world. And as a practice it provides a foundation for working critically, sensitively and with nuance in the arts. This panel: Eugenia Flynn, Creative Producer of the Fair Play Symposium; Azizeh Astaneh, a visual artist, graphic designer and founding president of Melbourne Artists for Asylum Seekers; Dominic Golding, an artist and a community worker who has worked with refugees, migrants, and people with disability; Peter Waples Crowe, a Ngarigo queer visual and performing artist, and Aboriginal Health worker; and Jax Jacki Brown, disability and LGBTIQ+ rights activist and Publishability Project Officer at Writers Victoria. Our final episode for Season 2 is here! Keep an eye on our social media for Season 3 news in the future.
Season 2 - List of episodes