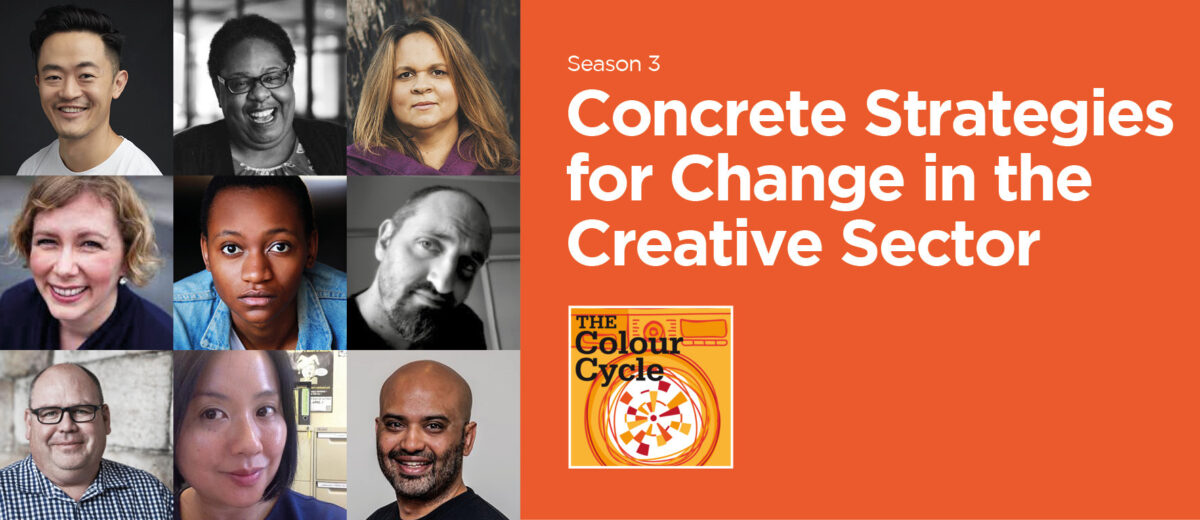 The Colour Cycle podcast SEASON 3 is here!
This new season of The Colour Cycle is centred around "Concrete Strategies for Racial Equity." We cover a huge breadth of content: the impacts of Covid-19 on artists, global anti-racism movements such as Black Lives Matter and Stop Asian Hate, the necessity of diversity standards, the power of Indigenous music in retaining language, and the importance of allyship and leadership networks.
The Colour Cycle Podcast is on all good listening platforms: Spotify, Apple Podcasts, Anchor, Castbox, Castro, Deezer, Google Podcasts, iHeartRadio, Listen Notes, Overcast, Playerfm, Pocket Casts, Podcast Addict, PodChaser, RadioPublic, SimpleCast, Soundcloud, Stitcher, and TuneIn.
The season also features a series of conversations with UK creative industry thought-leaders, in partnership with British Council Australia.  Featuring: Writer/ broadcaster Benjamin Law; Executive Director, Creative Diversity Network UK Deborah Williams; Noongar singer/songwriter Gina Williams; Head of Inclusion, British Film Institute Jennifer Smith; artist and refugee advocate Safdar Ahmed; writer/performer Moreblessing Maturure; Senior Manager, Aboriginal Strategy and Engagement at Create NSW Peter White; Asian Australian Alliance Founder Erin Chew; local media legend Sunil Badami + MORE.
The opening and closing track "You know What" was written by UK based musician Spider J. Heartfelt thanks to Arts and Cultural Exchange for providing us with a recording studio. 
Support Diversity Arts on Patreon to help us continue to deliver our Colour Cycle podcast series.
---
The Colour Cycle – Season 3
Episode 1: How to be Anti-Racist in the Arts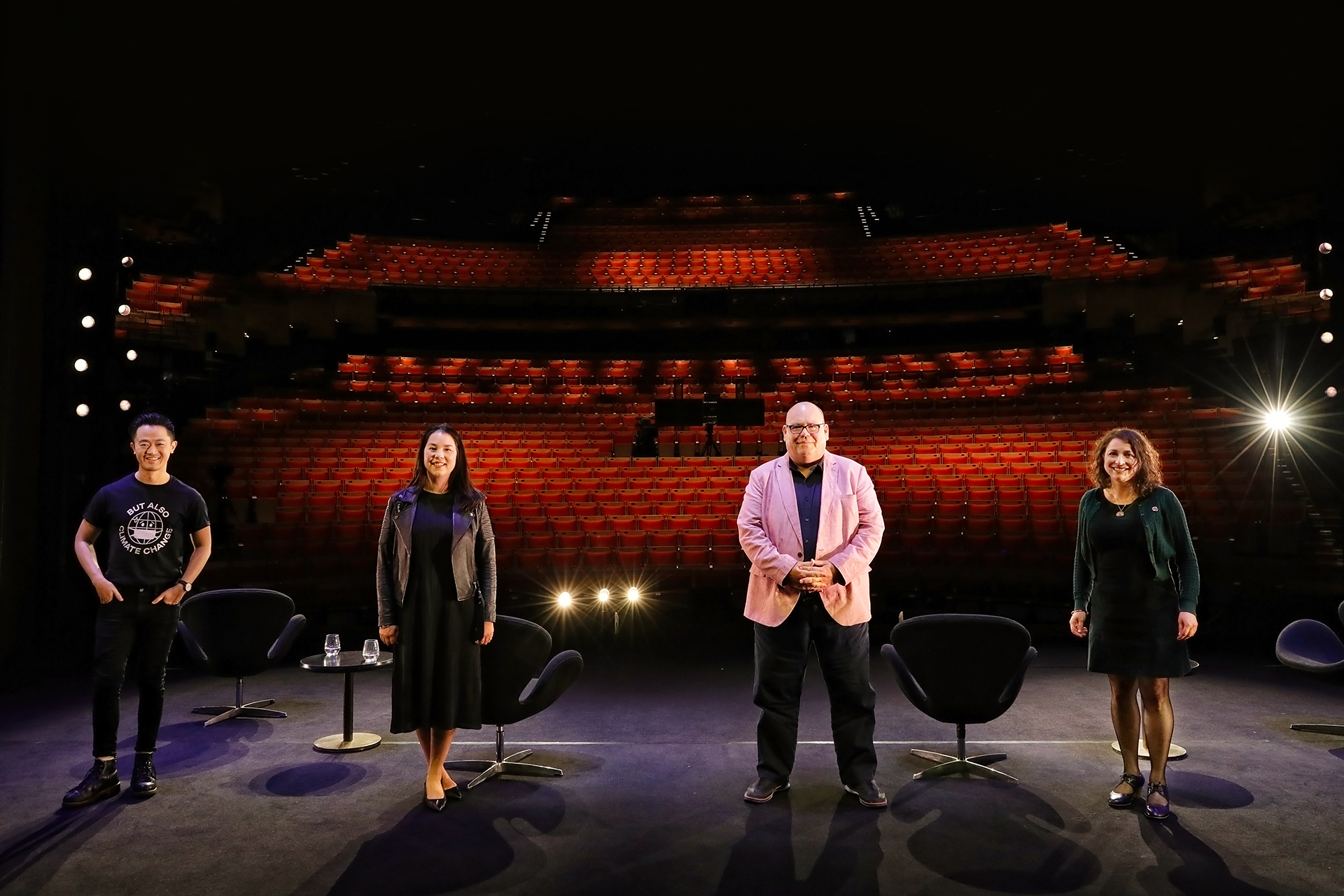 In 2020, Diversity Arts Australia and British Council launched the Creative Equity Toolkit (www.creativeequitytoolkit.org), a how-to resource that supports organisations in reaching diversity goals. This episode was filmed at the Toolkit launch at Sydney Opera House. It features conversations about the global anti-racism movements of 2020, allyship, building alliances between the culturally diverse immigrant space and First Nations movements and practical strategies for making change in the creative sector. Panel: Peter White (Senior Manager, Aboriginal Strategy and Engagement at Create NSW), Benjamin Law (writer and broadcaster) and Mikala Tai (Head of Visual Arts, Australia Council for the Arts). Spotlight: Writer-filmmaker Katrina Irawati Graham.
Thank you to the British Council and the Sydney Opera House, our partners on
How to be Anti-Racist in the Arts.
---
Episode 2: I Am Not A Virus – anti-Asian Covid racism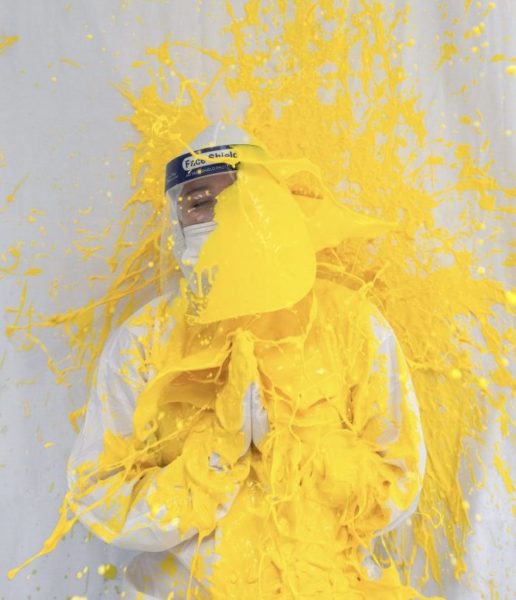 The Covid-19 pandemic saw a surge of Anti-Asian racism. In response, Diversity Arts Australia launched I Am Not A Virus, an artist-led project that provides powerful counter-narratives to xenophobia and racism. This episode spotlights interviews from Asian artists, partners and curators from the I Am Not A Virus project, along with two spoken word pieces that were commissioned as part of the project. Featuring: Erin Wen Ai Chew (founder of Asian Australian Alliance and Being Asian Australian), artists Jacqueline Pon, Sean Stephen Ryan, Jayanto Tan, Andrea Srisurapon, 4A Centre for Contemporary Asian Art curator Reina Takeuchi, and works by Kelly Huynh and Jasper Lee-Lindsay.
Read Asian Australian Alliance's "COVID-19 Racism Incident Report Survey Comprehensive Report 2021"
HERE
.
I Am Not A Virus
received support from the Australia Council, Create NSW, Creative Victoria, City of Sydney, City of Parramatta and Inner West Council. Thank you to 4A Centre for Contemporary Art, our project partners and curators of the
Acute Actions
exhibition and partners
Being Asian Australian, the Asian Australian Alliance and Democracy in Colour.
---
Episode 3: Gina Williams – Reviving and celebrating Indigenous languages through music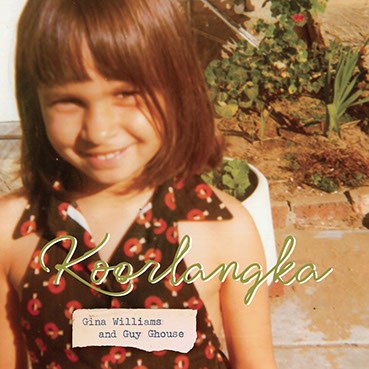 What is the power of language? How does the language we speak inform artistic practice? What do you do when the State has historically attempted to erase that language? Our special guest this episode is singer-songwriter and British Council ACCELERATE alumni Gina Williams, who creates contemporary music in her Indigenous Noongar language with her musical partner Guy Ghouse. Gina talks about the power of music to celebrate culture and pass it down to future generations. Support Gina and buy her albums HERE.  Learn more about British Council Australia HERE. 
---
Episode 4: Global Conversations – giving audiences the screen and stage diversity they want
The past two years have seen worldwide changes in the ways we talk about racial and cultural representation. Contemporary audiences are increasingly seeking out and demanding greater diversity in our screen and performing arts sectors.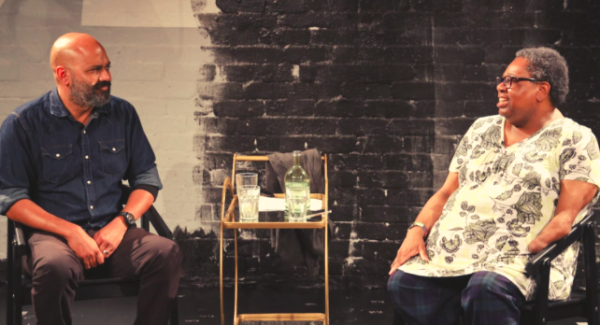 Writer/broadcaster Sunil Badami talks to CEO of Creative Diversity Network (UK) Deborah Williams about how things are shifting globally. As the former Diversity Manager at the British Film Institute (BFI), Deborah designed the diversity standards for film and broadcasting in the UK and has a wealth of insight when it comes to the creative sector. We also speak to Refugee Art Project's Safdar Ahmed about the impacts of Covid 19 on his artistic practice and the communities he works with.  Thank you to the British Council, Creative Victoria, Screen Australia, Belvoir Street Theatre and The Wheeler Centre for hosting and supporting Deborah's visit to Australia in 2019.
---
Episode 5: Cultural Markers and Visibility in the arts – a UK/Australia conversation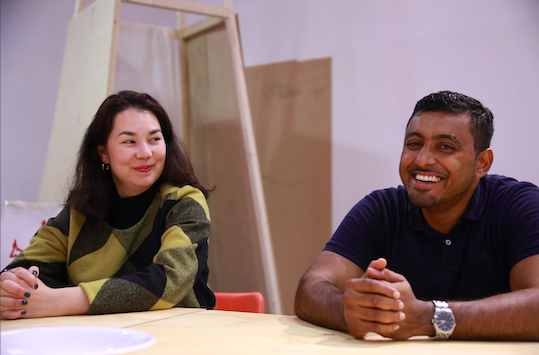 Diversity Arts Australia and British Council joined forces to run INTERSECT, a knowledge-exchange program between Australia and the UK which connected culturally diverse and First Nations arts and screen leaders from both countries. This episode we talk to INTERSECT participants about how they "put down cultural markers" in their respective sectors to affect long-term change, making diversity a vital part of core business rather than just a "side dish." Featuring: INTERSECT participants Abdul Shayek (Theatre Director and Artistic Director of FIO), Nike Jonah (Executive Director of the Pan-African Creative Exchange) and Mikala Tai (former Director of 4A Centre for Contemporary Asian Art). Spotlight: Sydney-based artist Ayebatonye. The INTERSECT program is a joint program between the British Council and Diversity Arts Australia with support from Creative Victoria and Create NSW. Alison Tanudisastro's interview with Ayebatonye was recorded at a We Are The Mainstream event. Thank you to all our partners!
---
Episode 6: Screen Targets and Standards – do they work?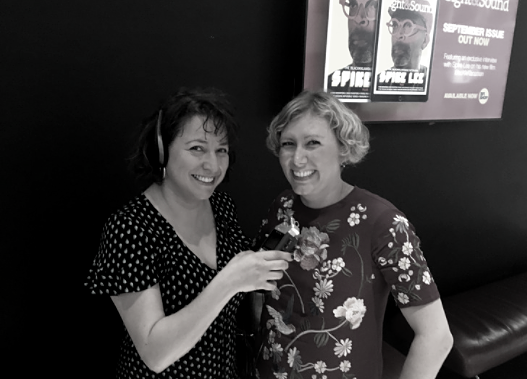 Can we increase cultural diversity on and behind our screens through official diversity standards? How necessary and effective are standards and targets? Lena Nahlous explores these questions by speaking to the Head of Inclusion at the British Film Institute (BFI) Jennifer Smith and Australian filmmaker Pearl Tan, a participant in British Council's INTERSECT program. Spotlight: writer and co-founder of The Pvblication Lamisa Haque
---
Episode 7: The Importance of Physical Spaces to Create and Connect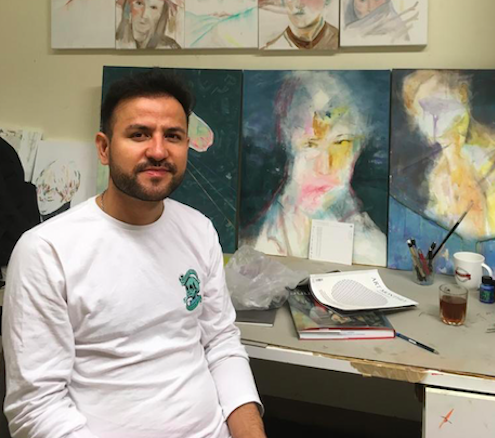 The creation of physical spaces — theatres, film companies and galleries — is integral to showcasing the work of culturally diverse artists and true pluralism of Australia. This episode explores the need for these spaces, with a particular focus on a diverse creative hub in Adelaide called Nexus Arts. We also ask: what happens when a global pandemic shuts down these critical centres for creation and connection? Featuring: Refugee Art Project's Zeinab (Sara) Mir, the Diverse Screens panel discussion at Adelaide Fringe Festival, poet and painter Elyas Alavi, and emerging artist Yusuf Ali Hayat.
Learn more about Nexus Arts
HERE
. Thank you to
Liverpool and Fairfield City Councils who provided additional support for
Diverse Screens

.
---
Episode 8: Overcoming the Imaginings of Others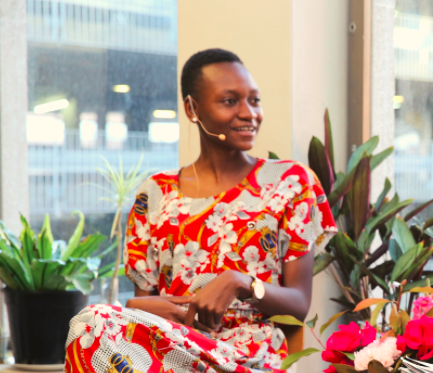 Lena Nahlous talks to multidisciplinary artist, activist, Ted x speaker and creative director of FOLK magazine Moreblessing Maturure about fighting erasure, the importance of having spaces to experiment and create, and the need for critics of colour. Spotlight: singer-songwriter and performer Zaya Barroso. Thank you to the Future Women, the City of Parramatta and Parramatta Artist Studios for hosting the talk! Alison Tanudisastro's interview with Zaya was recorded at a We Are The Mainstream event.
---
Bonus Episode: How to Engage Diverse Audiences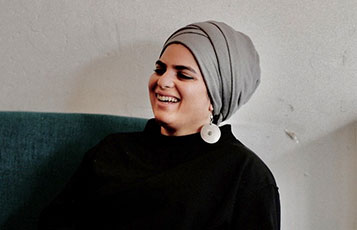 Lena Nahlous interviews poet and theatre producer Zainab Syed, who tells us about how she successfully engaged Muslim communities in Western Australia. The episode focuses on Performing Lines WA's staging of
Layla Majnun
, a solo show devised by diverse and emerging artists from WA and featuring US Farsi scholar and storyteller Ustaadh Feraidoon Mojadedi. Zainab reveals how she brought in both Muslim and non-Muslim audiences in huge numbers by considering everything from venue and staff training to strategic marketing.
This panel was a part of the 2020 Australian Performing Arts Exchange (APAX), and was facilitated and recorded by Catherine Conner and the team at PAC Australia. At the time of this interview, Zainab was creative producer at Performing Lines WA and is now producer at Belvoir Street Theatre in Sydney.
---
Bonus Episode: Racism in the arts – reform or revolution?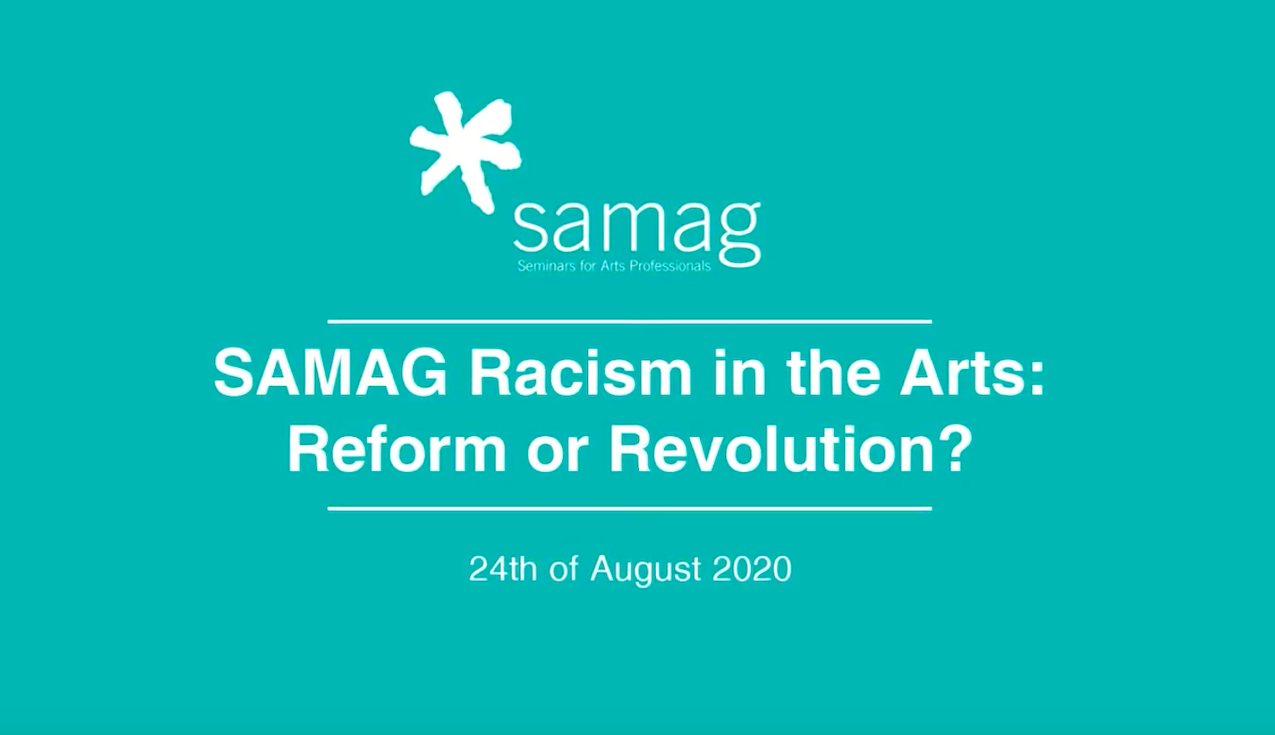 In 2020,
Sydney Arts Management Group (SAMAG)
facilitated a panel asking what was the role and responsibility of the creative sector in the fight for racial justice. Hosted by Diversity Arts' Lena Nahlous, the talk featured leading activists, artists and community leaders, who explored whether we should take the path of reform or instead "blow it all up" and completely rethink our industry structures? Listen on for an insightful conversation about how arts and cultural organisations can work with Indigenous and culturally diverse peoples in meaningful ways that transcend mere symbolism.
Featuring: Merindah Donnelly (Executive Producer, BlakDance), Rosie Lourde (film director, producer, performer) and Tian Zhang (curator and facilitator, founding co-director of Pari).
A big thank you to
SAMAG for facilitating this conversation, and to Vivienne Skinner (who was a voluntary worker at SAMAG at the time) for pulling this all together.
---