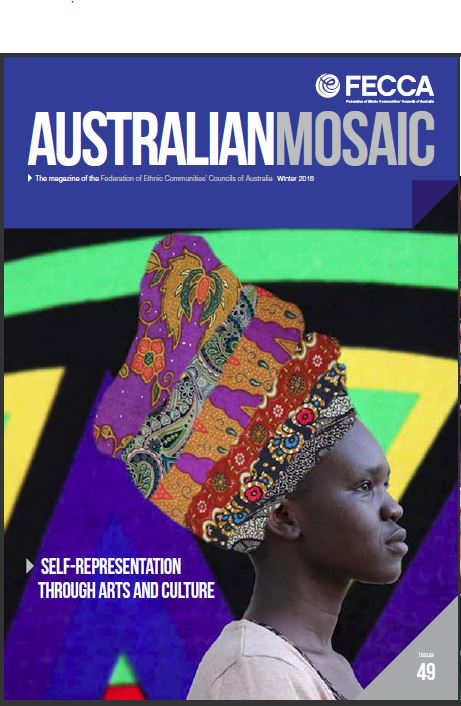 When we talk about inclusion in the arts, we are also talking about power.
Looking at issues such as who dominates the cultural space, cultural expression as a human right and what exactly can be done to challenge the status quo 'Why the arts are crucial to a diverse society' by DARTS's Lena Nahlous, Monique Choy and Dr Paula Abood is featured in the Winter 2018 edition of Australian Mosaic.
This issue also features profiles from our Creative Lives project, including Mahla Karimiyan, Azizeh Astaneh, Sista Zai Zande and Gawaa Lundaa. All the content from our Creative Lives project interviews, videos and images profiling inspiring diverse artists is available for use with attribution under a Creative Commons licence.
Australian Mosaic, is the thought-provoking magazine of the Federation of Ethnic Communities' Councils of Australia. This issue focuses on Self-Representation through arts and culture. Head to the FECCA website for more issues of this plain English magazine, which discusses a wide range of contemporary issues associated with multiculturalism, social justice, community harmony, and cultural and faith pluralism in Australia.
While many cannot relate to the absence of their stories and experiences in the images, films and arts that are being produced by Australia's cultural institutions and production companies, remedying this requires more than ensuring that there are 'diverse faces' in performances or in front of the camera. It is also about tackling the structural barriers that prevent culturally diverse people from occupying leadership and decision-making positions or from having long-term careers in the arts and screen industries.
Find out more
Read the winter edition of Australian Mosaic
Download now