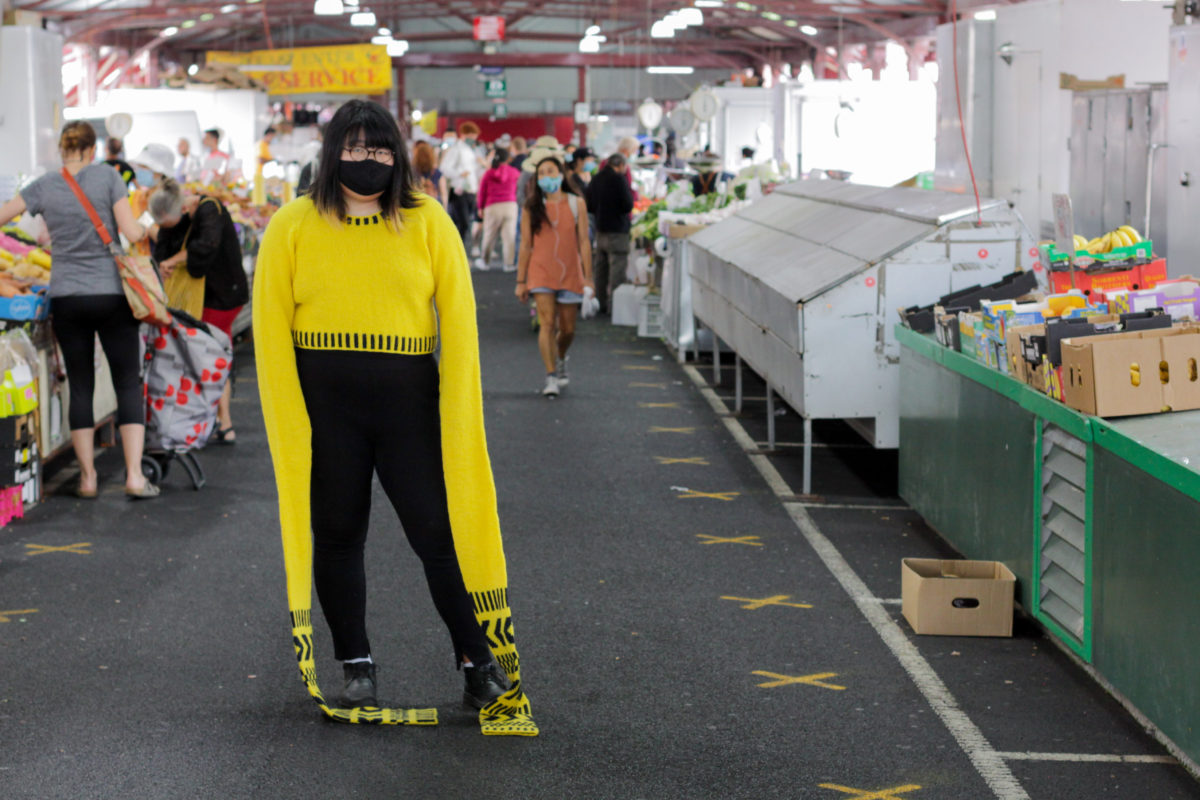 These are anguished times for Asian communities across the world, but defiance is also in order. So we offer congratulations to the 68 artists who have been selected from across Australia to create new works for the "I Am Not A Virus Australia" project. While artists are finalising their works, we are mounting an exhibition with our partner, 4A Centre for Contemporary Australian Art, and seeking additional platforms and partners for the works.
Edgy, engaging, playful and sometimes intense, these works challenge the ongoing swell of stereotypes, violence and intimidation that has condensed around Asian communities in the wake of COVID-19. The commissions range from comedy to visual art, performance, screen work, dance, writing, music and audio works.
Our exhibition at 4A, Acute Actions: Responses to I Am Not a Virus, will run 15 April – 15 May 2021, and return for a second season 3 June – 3 July 2021. It features work from Sophia Cai, Sai-Wai Foo, Jin Hien Lau, Nathan Liow, Zachary Lopez, Joe Lui Shang Yu & Deborah Ong, Andrea Srisurapon, Sweet and Sour Group, Jayanto Tan and Amy Zhang + Maggz.
The project was also featured this week in the Inner West Independent.
Thanks to our selection panel members: Imogen Yang (Insightful), Joon-Yee Kwok (Australian Bureau for Asian Creatives), Hoa Pham (Peril Magazine), Mikala Tai (formerly 4A; Australia Council) and Suna Xie (Visual Artist, Community Art/ Cultural Development practitioner).
The Full List of Artists
Selected Creatives funded by Australia Council, Create NSW, City of Sydney and City of Parramatta:
Audrey Alim (NSW)  

Aimee Butler (TAS) 

Sophia Cai (VIC) 

Matcho Cassidy (SA) 

Celine Cheung (NSW) 

Jacqueline Dixon (VIC)

Sydney Farey (ACT)

Deborah Faye Lee (NSW) & Sarah Tan (VIC)  

Sai-Wai Foo (VIC)

Derek Ho (VIC)

Tina Huang (NSW)

Kelly Huynh (NSW) 

Eric Jiang (NSW) 

Wina Jie (VIC) 

Judy Kuo (VIC) 

Youbi Lee (VIC) 

Mimi Leung (VIC) 

Lawrence Liang (NSW) & Christian Tilla (NSW)

Nathan Liow (VIC) 

Jacqueline Lo (VIC) 

Zachary Lopez (NSW)

Desmond Mah (WA)

Jocelin Meredith (VIC) 

Lili Mikami (QLD)  

Jacqueline Mohr (NSW)  

Ana Nguyen (NSW) 

Thuy Nguyen (NSW)

Jacqueline Pon (Mitchell) (NT)  

Rowena Rasmussen (NSW) 

Sean Stephen Ryan (VIC) 

Andrea Srisurapon (NSW) 

Sweet and Sour Group (ACT)

Dyan Tai (NSW) 

Maria Tran (NSW) 

Tien Tran (NSW)  

Benjamin Tsok Wee Yap (VIC) 

Joe Lui Shang Yu (WA) & Deborah Ong (VIC)

Sara Zeinab Mir (NSW) 

Amy Zhang + Maggz (NSW) 

Sophie Zhou (NSW) 
Selected Creatives funded by Australia Council, Create NSW and City of Parramatta
Eunice Andrada (NSW) 

Priyanka Bromhead (NSW)

Huyen Hac Helen Tran (NSW)

Christine Lai (NSW) 

Jin Hien Lau (NSW) 

Kim Pham (NSW) and

Alaa Alfaraon (NSW)

Jayanto Tan (NSW)

Susan Ling Young (NSW)
Selected Creatives funded by Australia Council, Create NSW and Inner West Council:
Susan Chen (Inner West, NSW)

Benjamin Hoh (Inner West NSW)

Beryl La (Inner West NSW)

Jasper Lee-Lindsay (Inner West NSW)

Teresa Li (Inner West NSW)

Jasmine Poole (Inner West NSW)

NC Qin (Inner West NSW)

Martyn Reyes (Inner West NSW) 

Fan Dongwang (Inner West NSW)

Wendy Qi Zhang (Inner West NSW)
Selected Creatives funded by Australia Council, Creative Victoria and Create NSW:
Yunyang Cen (VIC)

Tessa-May Chung (VIC) 

Yeon Ju Chun (VIC) 

Jingwen (Jina) He (VIC)  

Phu La (VIC)

Feifei Liao (VIC)

Si Cheng Shuai (VIC)

Elina Simbolon (VIC)

Clarine Wilmar (VIC) 

Kelly Yoon (VIC)