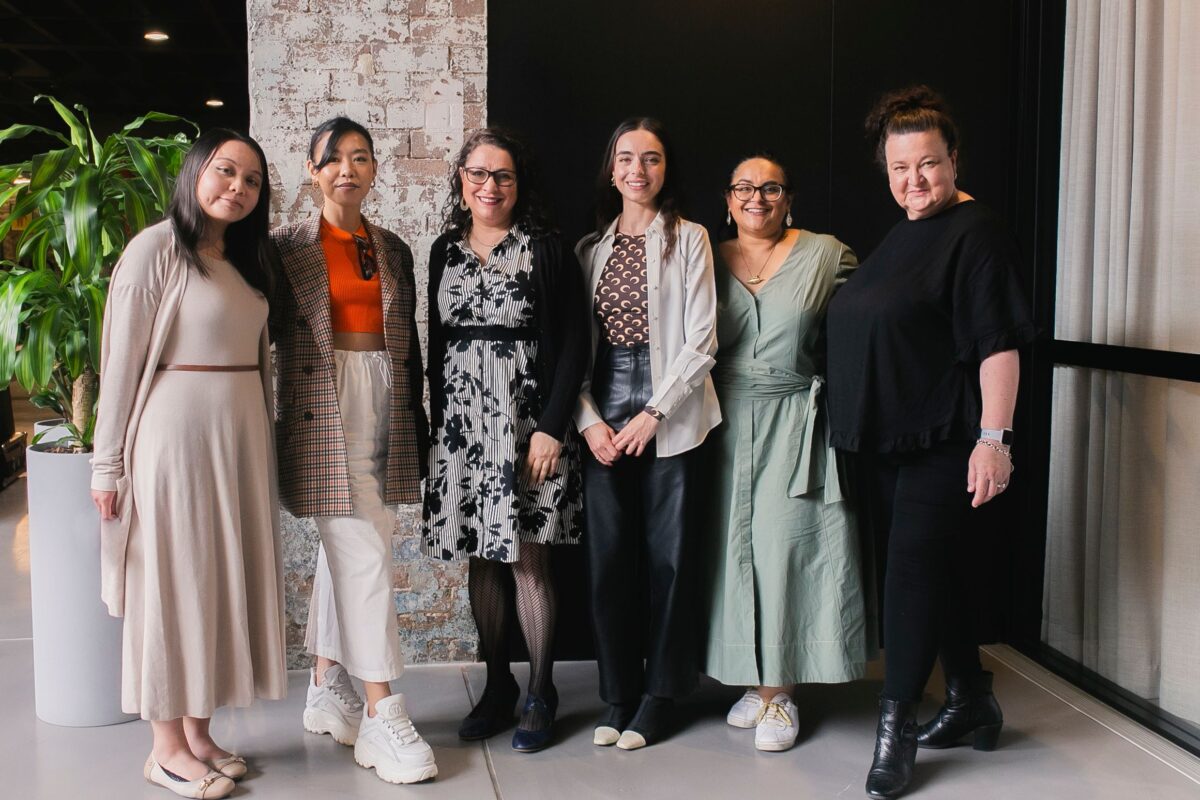 Our Team
Lena Nahlous CEO, Diversity Arts Australia
Lena became CEO of Diversity Arts Australia in 2016. She has over 20 years' experience in arts, cultural and media organisations, and has managed screen and digital media–based initiatives that have engaged thousands of people, particularly women, refugees, migrants and young people.
Lena was formerly the Executive Director of Arts and Cultural Exchange (ACE) in Western Sydney for over 10 years. Under Lena's leadership ACE grew tenfold financially and in terms of projects and scope. In 2020, Lena won the Western Sydney Woman Leader of Change Award. She is host of the Colour Cycle Podcast
Dr. Rohini Balram Acting Research, Education and Policy Manager
Rohini is an Indo-Fijian-Australian; she migrated from Fiji to Australia in 2010. She has completed a PhD at Western Sydney University in 2022, exploring marginalised migrant women in sporting platforms in Oceania. Rohini is an arts-based researcher and has worked on 16 research projects at Western Sydney University in the past 6 years. She employs an intersectional lens in her work to illuminate the interplay of multiple nuances in complex research contexts and lived experiences of marginalised people. Her research projects brings to the forefront the intersectionalities of: gender, ethnicity, race, sexuality, class, historical marginalisation, inter-generational trauma, ageism, space and place, religion and other socio-cultural factors which shape the lived experiences of culturally, linguistically, racially and historically marginalised communities of colour and minority groups. She has extensively worked on issues surrounding migrant women of colour in sports, ageing citizens from culturally and linguistically marginalised (CaLM) background, people with disabilities, refugees and LGBTIQA+ communities in Australia and Oceania.
Rohini is a creative writer and writes for multiple audiences- from high school to academic to community level- her creative works mainly comprise of poetry, song lyrics, short stories and plays. She is also an educator and has 20 years of teaching experience raining from English literature & language in high schools and tutor centres and, engaging pedagogies for research and development, cultural studies, intersectionality, sports sociology, adolescent health and historical and contemporary frameworks of disability studies at universities. Rohini has great passion for working at the community level and devotes her time to facilitating creative writing workshops with youths and older migrants in Western Sydney. She enjoys middle distance running and is gym instructor and personal trainer and works at community level to help (ageing) migrant women of colour navigate different challenges and barriers to sports and physical activity participation.
Joanne Cooper Administration Officer
Joanne has over 30 years' experience in office administration in a range of industries such as construction, project management, insurance, IT, childcare working across government, private and not-for profit sectors. Her previous roles have included small business management, contracts, finance, personnel admin, tenders and operational duties.
Glaiza Perez Digital Engagement and Communications Manager
Glaiza (she/they) is a writer, editor, social media and project producer based in Darug country. They are a graduate of Macquarie University with a Bachelor of Arts in Writing and a post-graduate Diploma in Digital Information Management from the University of Technology, Sydney. In addition to extensive experience in coordinating digital content, Glaiza has interviewed artists for publications such as Diversity Arts' Creative Lives, Literary CelebrAsian, and the NSW Multicultural Health Communication Service.
Glaiza is the Associate Producer for Diversity Arts' national Stories from the Future project. More broadly, they are interested in the resonance and power of speculative fiction, decolonised histories, archives and stories across the world.
Carielyn Tunion Creative Projects & Campaigns Producer
Carielyn (she/they) is a writer and videopoet with a background in screen and media arts. They previously worked providing social support and case management services to migrant and refugee women experiencing domestic violence and homelessness in Western Sydney. Carielyn also has knowledge in using creative strategies in a grassroots community organising context.
Carielyn is currently doing a Masters in Creative Writing and Literature at Western Sydney University. Her work has been published in Mascara Literary Review, Emerging Writers Festival, SBS Filipino and KAP Magazine. Her roots are in the archipelago of the so-called Philippines and Kowloon, Hong Kong. She has lived on Gadigal and Darkinjung land but currently lives, studies and works on unceded Dharug land of the Burramatta.
Kevin Bathman Strategic Projects Producer
Born in Kuala Lumpur, Kevin Bathman is a visual designer, storyteller, curator, writer and social change advocate based in Sydney. He is interested in using creativity to address environmental, cultural and social justice issues, and believes that the arts is an untapped avenue for catalysing change. As the founder of social enterprise, Coalition of Mischief, Kevin has worked on numerous social justice projects with not-for-profit and arts organisations to help them communicate their message more effectively.
His main areas of interest include multiculturalism, sustainability, storytelling and the arts. In 2010, he commemorated the life of the late Yasmin Ahmad, the Malaysian film maker and visionary with his visual arts and film exhibition, 'In Her Own Words: A Celebration of Humanity and Universal Love', that toured in Kuala Lumpur, Singapore and Melbourne. In 2013, he co-founded an arts initiative called Carnival of the Bold, a festival and movement of social change through the arts. Since 2012, Kevin has been researching the history, connections and crosscultural stories between the Chinese and Indian culture for his project, The Chindian Diaries. In 2014, it showcased as part of Parramasala, a South Asian Arts festival in Sydney and in 2016, he showcased the Chindians of Auburn, to highlight the growing Chinese and Indian families in the Auburn area in Sydney.
Dr Görkem Acaroğlu Training Consultant
Dr Görkem Acaroğlu is a Creative Director, Mentor and Educator with over 20 years experience in programming, producing, teaching and artistic practice. Görkem has specialist expertise in cross-cultural engagement and working with diverse stakeholders. She provides vision and practical expertise to the realisation of multiple projects from the ground up and has worked in a range of arts and creative roles, including currently as Creative Director, Metanoia Theatre, as Arts Participation Manager at the City of Melbourne, and Program Producer at Federation Square. Gorkem was an inaugural Sidney Myer Creative Fellow and was awarded a PhD in 2015 for examining the capacity for technological actors to perform competently with human actors on stage.
Sonia Mehrmand Consultant
Sonia Mehrmand received her Master's degree in Public History and Museum Studies at the University of California, Riverside. She's passionate about increasing access to the arts and cultural resources. During her graduate studies, Sonia discovered her interest in recording oral histories as a way to diversify the historical narrative of her home city, Los Angeles. She collected interviews for a variety of projects, including one that focused on a former resident of Chavez Ravine, which is now the site of Los Angeles' Dodger's baseball stadium. She also co-curated an exhibit entitled "States of Incarceration", which explored mass incarceration in the United States. Her area of focus was on the phenomenon called the "school to prison pipeline". For this exhibit, she interviewed residents of Riverside, California who were directly impacted by the prison system, as well as local organisations who work with young people to keep them in school and out of prison.
Sonia's interests extend outside of history and into the arts, having recognised the need for diversity in both of these realms. Her own mixed ethnic background – Iranian and Italian – has informed her interest in wanting to see more art and artists that reflect migration and first-generation experiences. Coming from one extremely multicultural city into another is an exciting opportunity for her to learn new practices and perspectives on increasing access and creating an arts sector that is truly reflective of the people who consume it.
Claire Cao Content Producer
Claire Cao is freelance writer from Western Sydney. She recently graduated with a Bachelors of Law/Arts from UNSW, majoring in Media, Culture and Technology. On screen, she is a screenwriter and associate producer for the Screen Australia-funded feature anthology HERE OUT WEST, which is currently in post-production. Her film criticism, essays and fiction have been published in publications such as The Big Issue, Filmmaker, SBS Voices, Meanjin, Kill Your Darlings, among many. She is a part of the published anthologies Sweatshop Women Volume One and COLLISIONS (Pantera Press). In 2019, she was part of Melbourne International Film Festival's Critics Campus and was the runner up for the Liminal Fiction Prize. In 2020, she was a WestWords fellow, and was mentored by award-winning author Melina Marchetta.
She is passionate about uplifting emerging artists from diverse backgrounds, and has taken mentorship/editorial positions in the past through the magazine Voiceworks and Express Media's Left to Write program.
Dr Paula Abood Fair Play Lead Trainer/Creative Producer
Artistic Director/ Editor/Facilitator/Trainer Paula Abood is a writer, community cultural development practitioner, creative producer and educator. She has worked with diverse communities in capacity building projects for 30 years. Her productions include The Cartographer's  Curse (2016), Auburn Cartographies of Diversity (2016),  Sacred Women's Voices (2013 / 2011), Parenting Stories (2010), Hurriya and her Sisters (2009), The Book of African Australian Stories (2006), Poetry on Rooftops (2006), and Of Middle Eastern Appearance (2001). Paula was awarded the 2007 Western Sydney Artists' Fellowship for the blogging project Race and the City and was the 2013 recipient of the Australia Council's Ros Bower Award for lifetime achievement in community cultural development practice.  She has developed resources and taught widely on subjects including cultural diversity, advocacy, and community development at TAFE and in community education settings. Paula co-developed the Certificate IV in Community Arts and Cultural Development that runs out of St George TAFE in Sydney, and is a leading trainer and educator on human rights approaches across the community, arts and education sectors. Paula was awarded a Doctor of Philosophy from UNSW in 2007 in the area of cultural studies.
Dr Margaret Mayhew Education Consultant
Dr Margaret Mayhew is a visual artist, academic and queer performance artist who has lived with chronic illness since 1984. She has volunteered with refugee community organisations in Sydney and Melbourne since 1991, and co-founded Melbourne Artists for Asylum in 2013. Margaret worked as a researcher in the Social Relations of Disability Research Network (1997-1998), the CALD capacity building program at the Australian Centre for Diabetes (2009-2011) and smaller projects with Information and Cultural Exchange and Diversity Arts Australia. She has taught in the Gender Sexuality and Diversity Studies program at La Trobe University since 2012. Margaret has exhibited textile works in Australia and Europe, and practiced, exhibited, researched and taught in community arts and life drawing in Australia and Internationally.
Simone Amelia Jordan Communications Consultant
Simone Amelia Jordan is a journalist, host and consultant. Her lengthy experience in music reportage has allowed her to pivot into professional development for new and emerging artists, specialising in First Nations and culturally diverse talent. Simone has held senior positions at Channel 10, The Source Magazine, Daily Mail, SiriusXM Radio, DrJays.com, Monster Products and founded and edited Australia's most successful Hip-Hop magazine, Urban Hitz, when she was 23 years old. Simone's celebrity interviews on YouTube have over 12 million views, and she was chosen as one of five women in the world to design a signature sneaker for Reebok Classics' "Classic Beat" campaign in October 2012. Simone has worked across print, radio, TV and digital arms of media, and has been an active mentor for young women since the beginning of her career.
Nadyat El Gawley Podcast Producer
Radio Producer| Writer| Educator | Web and Social Media Management| Passionate about telling the stories of different communities and teaching the next generation of journalists.
Vir Kaula StoryCasters Podcaster
Vir Kaula is currently working as an audio engineer on FORM Dance project's new podcast "Formidables." His interest in podcasting began with Diversity Arts' StoryCasters workshops, of which he is a member. Through recording and editing the stories of artists, Vir has a passion for spotlighting art and diverse artists in Western Sydney.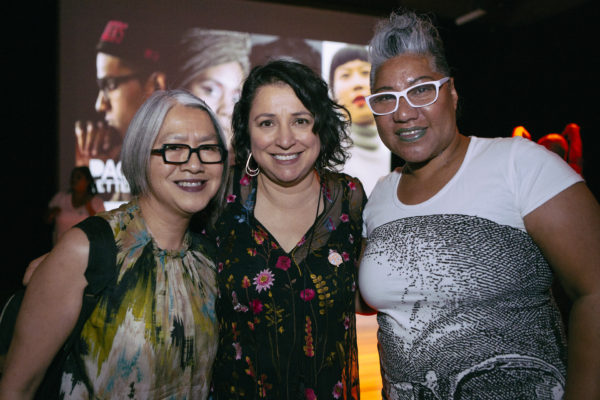 Lena (middle) and Debbie Lee (left), chair of the Diversity Arts board, at the launch of the Pacesetters with participating artist Latai Taumoepeau (right).