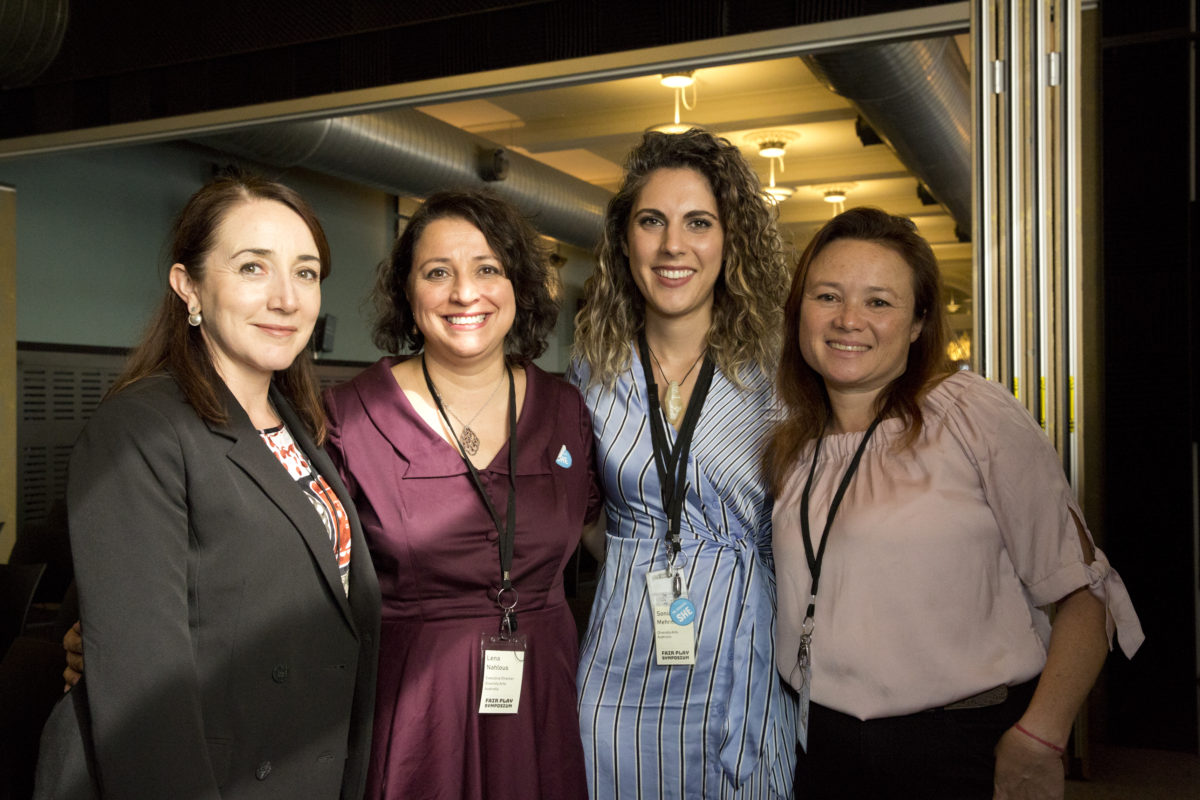 Our Team
Lena Nahlous Executive Director, Diversity Arts Australia
Lena became Executive Director of Diversity Arts Australia in 2016. She has over 20 years' experience in arts, cultural and media organisations, and has managed screen and digital media–based initiatives that have engaged thousands of people, particularly women, refugees, migrants and young people.
Lena was formerly the Executive Director of Information and Cultural Exchange (ICE) in Western Sydney for over 10 years. Under Lena's leadership ICE grew tenfold financially and in terms of projects and scope. Lena established Artfiles, an employment and engagement program for artists, the Switch Digital Arts Centre and co-founded the Arab Film Festival. Other roles include Manager of Auburn Community Development Network and Social History and Exhibitions Curator at Fairfield City Museum and Gallery.
In 2006 she was a recipient of an Asialink Arts Fellowship to Hong Kong and in 2008 completed the Asialink Leadership program. She has sat on the NSW Government Arts Advisory Committee, participated in the Australia 2020 Summit, was a finalist in the CEO of the Year Awards (2008), and was named as one of Sydney's 100 Creative Catalysts by Creative Sydney/VIVID (2007). Lena has taught at South West Sydney Institute of TAFE and was a special consultant on the Culture Beats program for the Sydney Harbour Foreshore Authority and the City of Sydney. She also sits on the board of the Sydney Writers' Festival.
Sonia Mehrmand Assistant Executive Director and Project Producer
Sonia Mehrmand received her Master's degree in Public History and Museum Studies at the University of California, Riverside. She's passionate about increasing access to the arts and cultural resources. During her graduate studies, Sonia discovered her interest in recording oral histories as a way to diversify the historical narrative of her home city, Los Angeles. She collected interviews for a variety of projects, including one that focused on a former resident of Chavez Ravine, which is now the site of Los Angeles' Dodger's baseball stadium. She also co-curated an exhibit entitled "States of Incarceration", which explored mass incarceration in the United States. Her area of focus was on the phenomenon called the "school to prison pipeline". For this exhibit, she interviewed residents of Riverside, California who were directly impacted by the prison system, as well as local organisations who work with young people to keep them in school and out of prison.
Sonia's interests extend outside of history and into the arts, having recognised the need for diversity in both of these realms. Her own mixed ethnic background – Iranian and Italian – has informed her interest in wanting to see more art and artists that reflect migration and first-generation experiences. Coming from one extremely multicultural city into another is an exciting opportunity for her to learn new practices and perspectives on increasing access and creating an arts sector that is truly reflective of the people who consume it.
Colin Ho Creative Equity Toolkit Coordinator
Colin Ho has worked as a digital producer for ABC TV and SBS, and is a proud community radio volunteer. He has written for outlets such as Peril Magazine, LIMINAL, ABC News and Counter Magazine. Over the next few months, Colin will be developing and releasing new sections of the Creative Equity Toolkit website.
Claire Cao Communications and Marketing Coordinator
Claire Cao is freelance writer from Western Sydney. She recently graduated with a Bachelors of Law/Arts from UNSW, majoring in Media, Culture and Technology. On screen, she is a screenwriter and associate producer for the Screen Australia-funded feature anthology HERE OUT WEST, which is currently in post-production. Her film criticism, essays and fiction have been published in publications such as The Big Issue, Filmmaker, SBS Voices, Meanjin, Kill Your Darlings, among many. She is a part of the published anthologies Sweatshop Women Volume One and COLLISIONS (Pantera Press). In 2019, she was part of Melbourne International Film Festival's Critics Campus and was the runner up for the Liminal Fiction Prize. In 2020, she was a WestWords fellow, and was mentored by award-winning author Melina Marchetta.
She is passionate about uplifting emerging artists from diverse backgrounds, and has taken mentorship/editorial positions in the past through the magazine Voiceworks and Express Media's Left to Write program.
Glaiza Perez Social Media Content / Associate Project Producer
Glaiza is a freelance writer, editor and social media / project producer based in Darug country. They are a graduate of Macquarie University with a Bachelor of Arts in Writing and a post-graduate Diploma in Digital Information Management from the University of Technology Sydney. In addition to extensive experience in producing social media content, Glaiza has interviewed artists and writers for publications such as Diversity Arts' Creative Lives, the NSW Multicultural Health Communication Service, Literary CelebrAsian and Warhol's Children, Newtown.
Glaiza is the Associate Producer for Diversity Arts' national Stories from the Future project. More broadly, they are interested in the sharing and preservation of information for communities across all mediums. Glaiza likes to keep up to date with diverse representation and communities in stories across the globe as a blogger.
Joanne Cooper Administration Officer
Joanne has over 30 years' experience in office administration in a range of industries such as construction, project management, insurance, IT, childcare working across government, private and not-for profit sectors. Her previous roles have included small business management, contracts, finance, personnel admin, tenders and operational duties.
Kevin Bathman Producer — Projects and Events
Born in Kuala Lumpur, Kevin Bathman is a visual designer, storyteller, curator, writer and social change advocate based in Sydney. He is interested in using creativity to address environmental, cultural and social justice issues, and believes that the arts is an untapped avenue for catalysing change. As the founder of social enterprise, Coalition of Mischief, Kevin has worked on numerous social justice projects with not-for-profit and arts organisations to help them communicate their message more effectively.
His main areas of interest include multiculturalism, sustainability, storytelling and the arts. In 2010, he commemorated the life of the late Yasmin Ahmad, the Malaysian film maker and visionary with his visual arts and film exhibition, 'In Her Own Words: A Celebration of Humanity and Universal Love', that toured in Kuala Lumpur, Singapore and Melbourne. In 2013, he co-founded an arts initiative called Carnival of the Bold, a festival and movement of social change through the arts. Since 2012, Kevin has been researching the history, connections and crosscultural stories between the Chinese and Indian culture for his project, The Chindian Diaries. In 2014, it showcased as part of Parramasala, a South Asian Arts festival in Sydney and in 2016, he showcased the Chindians of Auburn, to highlight the growing Chinese and Indian families in the Auburn area in Sydney.
Bethany Falzon Development Officer
Bethany is a creative producer and community arts practitioner based on Darkinjung Land, but working across many others. She uses a community-engaged framework and human-rights based approach to tell stories, explore issues and deliver projects, ensuring communities are at the forefront of conversations and cultural autonomy.
She has worked in Museums, Galleries, NFP organisations and Local Government across community-led participatory arts practices, community and cultural development, public programming, project management, policy and strategy.
She is a graduate of Macquarie University with a Bachelor of Arts in History and a post-graduate Diploma in Museum and Heritage Studies from the University of Sydney. She is also an Alumni of the Australian Council for the Arts Future Leaders Program.
Tanushri Saha Learning Designer and Coordinator
Tanushri Saha is a designer, researcher and writer based on Burramattagal land, Sydney.
Working primarily in the space between service design and research, Tanushri's practice explores the possibilities of socially-engaged design as a method for creating more just futures. At the heart of her work is a consideration of how design brings particular worlds into being, and the role it must play in transitioning toward worlds that are fairer for everyone. Her interests include transition design, systems thinking, science fiction, and questions of ecology. Across all areas of her work, Tanushri is deeply committed to community led, collaborative practice.
Tanushri also works as a service designer and researcher at Nook Studios. Previously, she has worked for the National Association for the Visual Arts, Médecins Sans Frontières, and the Sydney Opera House. She is the former visual arts editor of Peril Magazine.
Tanushri holds a Bachelor of Arts (Cultural Studies and History), and a Master of Design (Design Innovation) from the University of Sydney.
Dr Paula Abood Fair Play Lead Trainer/Creative Producer
Artistic Director/ Editor/Facilitator/Trainer Paula Abood is a writer, community cultural development practitioner, creative producer and educator. She has worked with diverse communities in capacity building projects for 30 years. Her productions include The Cartographer's  Curse (2016), Auburn Cartographies of Diversity (2016),  Sacred Women's Voices (2013 / 2011), Parenting Stories (2010), Hurriya and her Sisters (2009), The Book of African Australian Stories (2006), Poetry on Rooftops (2006), and Of Middle Eastern Appearance (2001). Paula was awarded the 2007 Western Sydney Artists' Fellowship for the blogging project Race and the City and was the 2013 recipient of the Australia Council's Ros Bower Award for lifetime achievement in community cultural development practice.  She has developed resources and taught widely on subjects including cultural diversity, advocacy, and community development at TAFE and in community education settings. Paula co-developed the Certificate IV in Community Arts and Cultural Development that runs out of St George TAFE in Sydney, and is a leading trainer and educator on human rights approaches across the community, arts and education sectors. Paula was awarded a Doctor of Philosophy from UNSW in 2007 in the area of cultural studies.
Jennifer Macey Podcast Producer
Jennifer is a freelance journalist and podcast producer with extensive experience in radio, podcasting, news and current affairs.
With excellent writing skills and the ability to work well under pressure, Jennifer has a passion for stories, people, the environment, social affairs and an extensive contacts list.
Curious, friendly, open, hardworking, delivers on projects and meets tight deadlines. Understands what makes a good story and how to sell it.
Social media junkie and meticulous editor with an ability to write for the ear and the eye.
Dr Margaret Mayhew Fair Play Coordinator
Dr Margaret Mayhew is a visual artist, academic and queer performance artist who has lived with chronic illness since 1984. She has volunteered with refugee community organisations in Sydney and Melbourne since 1991, and co-founded Melbourne Artists for Asylum in 2013. Margaret worked as a researcher in the Social Relations of Disability Research Network (1997-1998), the CALD capacity building program at the Australian Centre for Diabetes (2009-2011) and smaller projects with Information and Cultural Exchange and Diversity Arts Australia. She has taught in the Gender Sexuality and Diversity Studies program at La Trobe University since 2012. Margaret has exhibited textile works in Australia and Europe, and practiced, exhibited, researched and taught in community arts and life drawing in Australia and Internationally.
Mahla Karimian Fair Play Project Producer
Mahla Karimiyan is an accomplished visual artist and community arts worker. Her visual arts practice is based around classical Persian scratchboard and professional photography. Since arriving in Australia in 2013, Mahla has exhibited in The Ownership Project, Abbotsford Convent, Library at The Dock, and the Walker Street Gallery, where she was a finalist in the 2016 Home and Art Prize. Mahla is President of Melbourne Artists for Asylum and coordinated its community art workshops at Siteworks during 2018. She has collaborated with Youbi Lee on the Migrant Mothers Art Classes in 2019 and Asylum Silk Road Project in 2017 and is developing a community arts space in Melbourne's northern suburbs. Mahla is committed to developing and sharing her visual arts practice through collaborating with individuals and organisations who support diverse communities.
Maylei Hunt Lead Producer
Maylei Hunt is a Melbourne Based Photographer, Filmmaker, Curator, Educator and Community Arts Worker. Her career spans over 20 years in the social documentary, commercial and fine arts areas of photography. Hunt's photography and film making focuses on social justice, community engagement and the arts, including a monograph and exhibition series documenting the Marriage Equality Campaign in Australia. In 2020 Hunt will showcase her photo-documentary series LET'S EAT CAKE in an exhibition and events program as part of the Melbourne Midsumma Festival in Melton. Hunt has worked in remote communities in Balgo, with Information and Cultural Exchange in Western Sydney and with the Community Partnerships team at Yarra City Council. After working on documenting public events for the Fair Play project in 2019, and having recently completed her Diploma in Community Development, Hunt has now joined the Fair Play Melbourne team.
Kevin Nelson Accountant
Kevin Nelson joined the team in 2010 carrying out its finance functions. Kevin is a full member of CPA Australia and was formerly an Associate of the Institute of Chartered Secretaries and Administrators. During his working life, Kevin worked for companies mostly associated with the building industry, as a financial accountant and company secretary. He also had extensive involvement with organisations in the charitable and not-for-profit sector and was the Director, Finance and Administration at Community Aid Abroad for six years.
As the father of a son born with spina bifida, Kevin has been heavily involved with the disability sector including 10 years on the executive of Yooralla. Following retirement, he has undertaken accounting and advisory roles for a number of arts organisations. Kevin emphasises the importance of proper financial controls and budgetary monitoring, providing detailed reporting to the Board.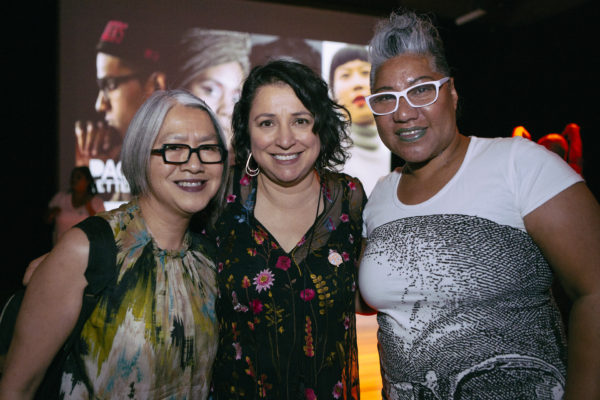 Lena (middle) and Debbie Lee (left), chair of the Diversity Arts board, at the launch of the Pacesetters with participating artist Latai Taumoepeau (right).