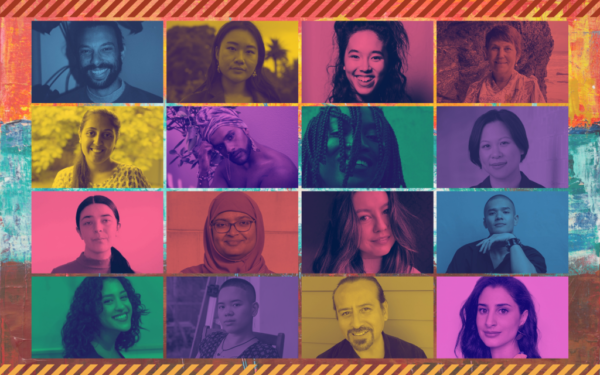 Diversity in Australian Media, in collaboration with Diversity Arts Australia and ArtsHub/Screenhub published a series of articles that highlighted the big issues facing underrepresented/marginalised creators and communities, while also offering strategies for change. It is important that we hear the perspectives of those with lived experience.
The call for pitches took place in March 2021, and specifically targeted emerging writers/journalists who are Indigenous / First Nations / Black / People of Colour / CaLD and understand the screen or arts sector well.
The selected articles were published on ArtsHub and/or Screenhub and shared on the Diversity in Australian Media social media, Diversity Arts Australia website and other places.
Ana Tiwary, who created this initiative last year, expressed her enthusiasm for the initiative funded by Diversity Arts Australia (made possible with support from Create NSW and Australia Council for the Arts):
"I am so grateful to Lena Nahlous and the entire DARTS team for their wonderful support. This collaboration will not only bring more underrepresented perspectives to one of the most popular arts publications in Australia, it will also provide a career pathway to diverse writers/journalists."
Read the full reviews here
Read the full articles here
Participating writers include:
Annie Thiele
Annie Thiele is a Chinese Australian producer and writer. Her days are busy producing ads whilst her nights are dedicated to various film projects. In between she's desperately exploring her identity as a young biracial woman. She's currently developing a series, Sweet & Sour which is loosely based on her own life as part of the Stan & Film VIC comedy initiative.
Bryan Andy
Bryan Andy is a Yorta Yorta man; he identifies as gay. He is a writer, arts critic & radio broadcaster. Bryan has worked with Melbourne International Arts Festival, Australia Council for the Arts, Yirramboi First Nations Arts Festival, Melbourne Workers Theatre, Malthouse Theatre, Australians for Native Title & Reconciliation and Amnesty International Australia; and has been published with Lonely Planet, The Guardian, Witness Performance, Meanjin and ABC. Bryan is the current Chair of the Yorta Yorta Nation Aboriginal Corporation.
Cessalee Stovall
Cessalee Stovall is an artist, educator, and advocate who connects her theatre and performance practice, expertise as an educator, lived experience as a Black artist, and passion for engagement through the arts to deliver programming that serves artists and our industry on a global scale.
With a degree in theatre from Florida State University, certificates in Diversity and Inclusion from Purdue University and Cornell University, and a Mental Health First Aid certification, she is uniquely qualified to support diversity, equity, inclusion and mental health in the performing arts sector.
Chido Mwat
Chido Mwat is a Zimbabwean comedian, writer, film and web content maker living in Naarm (Melbourne, Australia). She performed her first full length show 'She-Nanigans The Show' at the Melbourne International Comedy Festival and Fringe Festival 2022. In 2022 Chido was selected to participate in the Melbourne Theatre Company x Emerging Writers's Festival program First Stage. Her writer/directorial debut short 'For Becky' has been featured on SBS on demand, placed third at the Sunshine Short Film Festival (2021), and was an official section at the African Smartphone International Film Festival (2021). Chido has produced online content for the Department of Family, Fairness and Housing to promote COVID Safe behaviour and was a writer for a series of TikToks by Cinespace about anti-racism.
Didi de Graaf
Didi de Graaf is a Samoan-Kiwi writer, who studied a BA in scriptwriting at AFTRS and currently works in Sydney in film. As an emerging creator, the work that Didi is interested in writing or examining is inspired by the intersections of her own identity and heritage, and the diversity within Australasian culture.
Emma Sullivan
Emma Sullivan is a Japanese-Australian writer based in Melbourne/Naarm. A former ballerina, she has trained at a pre-professional level in Moscow, Belgium and the USA. Her passion for the arts has led to her curiosity in the role it plays in society. She has learnt to look at her multicultural upbringing from different perspectives and is incredibly fascinated by cultural rituals and how it affects one's sense of identity.
Guillermo Martín Sepúlveda
From Chile, Guillermo arrived with his family as a child refugee. He is an award-winning filmmaker broadcast around the world, producing for SBS, ABC and Foxtel. He is a graduate of the Australian Film Television and Radio School, also studying at the National Institute of Dramatic Arts. Garnering an International Human Rights Commendation and City of Melbourne Open Award, his philanthropic working experience has raised millions of dollars for Amnesty International, UNICEF and others. He has written for magazines, online film sites and is a published author. Guillermo is a storyteller at heart and a human rights and environmental activist. His short film "Last Goodbye" 2021 was selected into 61 International Film Festivals – Paris, Rome, London, New York, Sydney, Barcelona, Berlin, L.A., Tokyo and many others – with 42 award wins including Best Picture, Best Director, Best Actress, Best Actor, Best Composer.
Helen Stenbeck
Helen is the host and producer of the podcast, Asian Bitches Down Under, and the coordinator for the Taiwan Film Festival in Australia. She is an advocate for intersectional feminism and diversity in media, literacy, journalism and entertainment. Helen currently resides in Darkinjung country with her family and volunteers with Guide Dog Australia as a therapy dog handler for Canine Court Companion Program.
Jessica Magro
Jessica Magro is a proud Samoan-Maltese-Australian television producer, writer and creator based in Meanjin (Brisbane, QLD). Jessica graduated with a Diploma of Screen and Media in 2013 and since then has produced countless films and television series including short Pasifika LGBTQIA+ documentary 'FEZ' for ABC iView with her production company Purple Carrot Entertainment. Jessica currently works with the incredible team at Ludo Studio as Assistant Producer on 'Bluey' while developing her own slate of independent projects, including 'DIVA' which has recently received development funding through the SBS and Screen Australia 'Digital Originals' initiative.
Kalu Oji
Kalu Oji is an Igbo-Australian writer-director. His focus primarily lies on narrative work and explorations of identity, particularly the African-Australian identity. Kalu graduated from the Victorian College of the Arts in 2018 with a Bachelor of Fine Arts (Film and Television). Upon graduation he was awarded the Australian Directors Guild Mentorship Award. His graduate film, Blackwood, had its world premiere at the 43rd Atlanta Film Festival where he picked up the Filmmaker to Watch Award. Since then it's gone on to screen at a handful of other Oscar and BAFTA Qualifying festivals, including the BFI London Film Festival, Chicago IFF, Palm Springs Shortfest, and more. Kalu's follow up short film, The Moon and Me, recently had its world premiere at the Oscar Qualifying, Pan African Film Festival in Los Angeles.
Katrina Irawati Graham
Katrina is an award-winning writer, director, facilitator and playwright. She writes in many genres, but her true love is feminist horror.  Her Indonesian ghost story, White Song, is part of Australia's first all-female directed horror anthology, Dark Whispers Volume One. She is currently developing her supernatural play, Siti Rubiyah, into a feature film. She is also developing an aspirational multicultural midwifery drama series. She is co-founder, chair and Queensland board member for Women in Film and Television (WIFT) Australia. WIFT advocates for gender equity for all women and gender diverse people across the Australian screen industry.
Lamisse Hamouda
Lamisse Hamouda (she/her) is an Egyptian-Australian writer, performer and youth worker who lives on the unceded lands of Meanjin (Brisbane). Her writings have been published in various publications in Europe and Australia, including Arts of the Working Class, Diversity Arts Australia, SBSLife and Jdeed Magazine. Her poetry was included in the anthology, 'Arab, Australia, Other: Stories on Race and Identity'.
Ljudan Michaelis-Thorpe
Ljudan Michaelis-Thorpe is a proud Bidjara and Dhunghutti woman living in Meanjin (Brisbane) who works as an independent filmmaker (writer/producer) across the Nation. She is the founder of start-up Women in Screen Enterprise (WISE) designed to promote and create opportunities for women from diverse backgrounds to find creative pathways into the screen industry through a supportive and caring environment. She has a slate of powerful screen content with strong female driven and First Nations oriented narratives. Ljudan has a Masters in Screen Production (GFS) and Bachelor of Indigenous Studies (major trauma & healing). She is the Indigenous Lead for Women in Film & Television (WIFT) Australia and events manager for WIFT QLD.
Manan Luthra
Manan Luthra is an emerging journalist based in New South Wales. Currently studying at the University of Sydney, he is the owner and editor of State of the Art Media, an arts journalism group which has covered Sydney's performing arts scene since 2019. He has written for The New York Times, Indian Link, Junkee and Scenestr, and in his spare time he works as an actor and event co-ordinator. He's currently watching jeen-yuhs: A Kanye Trilogy and reading Shoe Dog: A Memoir by the Creator of Nike.
Naavikaran (she/they)
Goddess Naavikaran is a DJ, theatre producer, musician and choreographer from India, based in Naarm (Melbourne). Their work creates platforms for accessible and anti-racist storytelling for identities of marginalized intersections and communities. Naavikaran's debut album, Brown Church is available on all streaming platforms. Their pronouns are she and they and can be found on all social media platforms @naavikaranoutlook-com
Mary Tran
Mary Tran is a storyteller and multimedia producer from Sydney's West. She creates digital stories on issues that matter, spanning from refugee rights, gender equality and community development, and has worked across South East Asia from Myanmar to Vietnam. Now back in Australia, she's leveraging her voice to advocate for more diversity in Australian media. You can see her work at www.glassfuller.com.
Pearl Tan Filmmaker, Diverse Encounters on Screen Sydney
Pearl Tan is a screen content maker and educator. She is the founder and director of Pearly Productions, a filmmaking boutique with a focus on diverse stories, and Senior Lecturer in Directing at the Australian Film Television and Radio School (AFTRS). Pearl has extensive experience in advocacy and governance, and currently sits on the board of the Australian Directors' Guild, having previously served on the AFTRS Council, Critical Stages Touring Board, Media Entertainment and Arts Alliance Board, Actors' Equity's National Performers Committee and as Co-Chair of the Equity Diversity Committee. She is currently completing her PhD in Creative Practice at the University of NSW, exploring the experience of diversity workers in the Australian screen industry.
Raveena Grover StoryCasters Writer
Raveena Grover is a writer, curator and creative director who has had her words and photography published in Sweatshop Women (Sweatshop Literacy Movement, 2019), SBS Voices, TimeOut Sydney, Kill Your Darlings and Folk Magazine, and curated and performed as part of Red Dot Revolt and Sydney Fringe Festival. She is focused on creating and exploring the beauty, strength and realities of art by People of Colour as a queer Punjabi woman.
Satara Uthayakumaran
Satara Uthayakumaran is a young writer, currently studying a Bachelor of Arts/Laws at the Australian National University. She has previously written for publications including the Australian Broadcasting Corporation, the Sydney Morning Herald and the ACT Human Rights Commission. She is a Board Member of the Domestic Violence Crisis Centre and a Youth Ambassador for Anti-Slavery Australia. Satara has also appeared on national television, most notably for her conversation with previous Prime Minister Julia Gillard, on women of colour in leadership.
Sonja Hammer
Sonja Hammer is a diaspora First Nations (Ngati Kahungunu, Kuki Airani-Aitutaki ) woman originally from Aotearoa/NZ, identifying as Takataapui and is Takiwatanga (Autism spectrum). Sonja is an experienced broadcaster having produced community radio as diverse from intersectional feminism to speculative and horror genre shows. She is the co-founder of the first Australian LGBTIQA+ pop culture advocate organization Queer Geeks of Oz. Sonja is the Secretary and Creative Arts Ambassador for not-for-profit Pasifika organization Pacifique X. Currently Sonja volunteers as a short film programmer for the Melbourne Women in Film Festival (MWFF) and the Environmental Film Festival Australia (EFFA), building Indigenous Pasifika and Maori representation.
Tasneem Chopra
A Cross-cultural Consultant, Tasneem addresses issues of diversity, equity and inclusion across organisational leadership, including intersectionality within government, corporate and community sectors. For her efforts in cultural competence and community engagement she was acknowledged with an OAM (Order of Australia Medal) in 2020. This follows her being named an Anti-Racism Champion by the Australian Human Rights Commission in 2019. In addition to her Consultancy, Tasneem is a Director for The Australian Centre for the Moving Image (ACMI), Fire Rescue Victoria SAB, The Crescent Institute, the South Asian Australian's Researching Ideas (SAARI) and an advisor to InTouch Multicultural Centre Against Family Violence and the La Trobe University School of Humanities. She has also enjoyed governance affiliations with Ambulance Victoria, the Luke Batty Foundation, NOW Australia, the Australian Muslim Women's Centre for Human Rights and Lentil As Anything. A TEDxMelbourne presenter, Tasneem has featured on BBC World, Al Jazeera and ABC'sQ&A, The Drum and Radio Melbourne where she is a regular panellist and sought after commentator. She is a published author and has also written for The Guardian, SBS Voices& The Age as well as several academic publications. As an international festival and conference presenter, Tasneem's most recent appearances include: the IABC World Conference (Bahrain), the Bradford Literature Festival, (UK) and The Concordia Forum, (Canada).
Tasnim Hossain
Tasnim Hossain works as a theatre director, playwright and dramaturg, as well as a screenwriter and story developer. She was co-creator and co-writer on Carpark Clubbing for ABC iView, supported by Create NSW and ICE Parramatta. She has been a STC-CAAP Directors Initiative participant, Griffin Theatre Studio Artist, ATYP Resident Playwright, and Melbourne Theatre Company's Women in Theatre mentee. She is an ATYP board member and part of the current Australia Council Future Leaders program.
Travis Akbar
Travis Akbar has been writing creatively ever since he was able to hold a pen and has been a film buff ever since he first watched Jurassic Park. Travis began reviewing films in 2018 for The Curb and has since written for several other online publishers such as Indigenous X, Junkee, Pedestrian, SBS and NITV.  In 2019 Travis began screenwriting and has written several feature and short films, some of which are in production currently. He is also working with Hollywood veteran Steph Lady on other projects. A proud Wongutha man, Travis has a keen focus on creating stories that contain social commentary and a diverse range of characters.  Travis lives on Permangk Country in the Adelaide Hills and can be found on twitter at @TravAkbar or contacted through his website at www.darkbeforedawn.com.au
Viki Mana
Meleika Gesa-Fatafehi AKA Vika Mana, is a storyteller from the Zagareb and Dauareb tribes from Mer Island, Torres Strait and Fahefa Tonga. They perform poetry, write criticism, breathe life into worlds and lastly, can share a joke or two, max. That's because they only know exactly two jokes. In 2019, Meleika won a place in The Next Chapter Scheme awarded by the Wheeler Centre. In 2020, Vika was shortlisted for the Nakata Brophy prize. Vika is also apart of the FAMILI collective, rapping about Afros and abolition.
Virat Nehru
Virat is an Indian-Australian writer and literary critic. He was a Young Journalist of the Year finalist at the 2018 NSW Premier's Multicultural Communication Awards. As the resident film critic at 2SER 107.3FM, he is the co-host of the station's weekly film-based radio program. He's also the co-host of a podcast that discusses Hindustani film music and lyrics and is the founding member of the Sydney Science Fiction Film Festival.